Heilind Electronics, a global distributor of electronic components and authorized distributor for Amphenol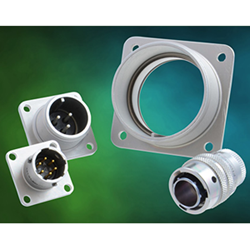 Source: Heilind ElectronicsIndustrial, has expanded its selection of rugged interconnect solutions with the company's Gray Zinc Nickel (ZnNi) circular connectors.
Comprised of gray zinc over electroless nickel, gray ZnNi plating is a RoHS-compliant and cadmium-free alternative to standard plating options. Additionally, it is non-magnetic and results in no significant galvanic reaction when mated with electroless nickel, olive drab cadmium or black zinc nickel-plated connectors.
Like its traditional counterparts, ZnNi plating also offers superior performance in harsh environments — including extremely high corrosion resistance, <2.5 m ohm conductivity and a minus 65 degrees Celsius to 200 degrees Celsius operating temperature range. This makes it ideal for applications like marine crafts, electric vehicles, power generation, and industrial machinery and equipment.
Visit Heilind's website for more information about Amphenol Industrial Gray Zinc Nickel Circular Connectors.