Opioid use is a major problem in many U.S. cities. According to the Centers for Disease Control and Prevention, 100 people die every day due to opioid overdoses. Researchers from Washington University School of Medicine and Epharmix, a digital health company, have teamed up to help battle the opioid epidemic. The team developed an automated text message service that could help stop opioid abuse, reduce relapses and decrease treatment costs.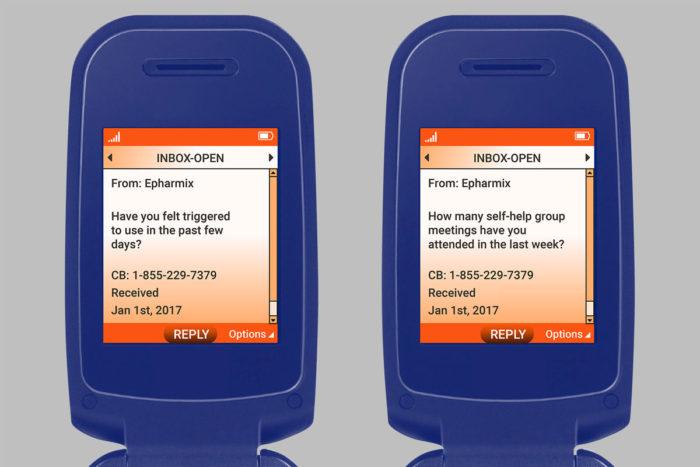 Washington University School of Medicine in St. Louis and Epharmix, a digital health company, have created a new automated text messaging service that may curb opioid abuse and prevent relapse. Source: Epharmix
The messaging technology offers text messages and phone calls to patients who are addicted to opioids. These messages ask the patient if they are okay or struggling with a potential relapse. There is a panic button that patients can press if they need help immediately.
Doctors can save a lot of time by monitoring their patients through the phone calls and patients are saving medical costs by not having to go to an appointment every time they are feeling unstable. The cell phone method gives healthcare workers the ability to treat more patients.
"There is an urgent need to address the opioid crisis in powerful new ways," said the study's senior author and researcher, Avik Som, M.D. and Ph.D. student at Washington University.
"With the opioid epidemic, time is of the essence because of how quickly it's grown and the lives that are lost," Som said.
The new tech was created to work with cognitive behavioral therapy, support services and other opioid addiction treatments.
"This is not meant to replace important programs or face-to-face contact between patients and providers," Som said. "Rather, it is an additional tool that is affordable and immediate. It doesn't require costly, time-consuming measures such as opening substance-abuse centers, and training and hiring new staff."
To test the device, 21 patients at the Preferred Family Healthcare in St. Louis were provided with the texting service in late 2016. Forty-three percent of the patients reported substance abuse in the previous three days, 43 percent reported no use and the remaining patients didn't respond. After three months, 50 percent of the patients reported that they did not use and only 10 percent of the patients used at the time of data collection. The data isn't yet secure enough to say that the messaging service is the only reason for the positive trend, but it is definitely promising.
"Opioid users face strong urges to relapse because of the addictive power of the drug," Som said. "As a result, health-care workers struggle to keep patients engaged. Texting is convenient, immediate and nonjudgmental. It has become an integral part of how we communicate in society. Patients reported feeling more connected to health-care providers."
When the user activates the panic button, healthcare workers are notified and they call the patients to provide counseling, in-person appointments and other resources.
Caregivers can monitor their patients with daily questions that are automatically sent to their patients like "Have you used in the last day?" or "Have you had urges to use?" When a patient reports that they are struggling, there are more automated questions that pop up to determine how serious the risk of relapse is. Healthcare workers are alerted to intervene if necessary.
"Health-care providers can be proactive," Som said. "It is so much more powerful to curb the temptation and break the cycle in advance of relapse rather than providing treatment only after the event has occurred."
The patients involved in the study all were on Medicaid. Each patient has more than $20,000 in medical costs related to their substance abuse. The team figured out that per-patient costs for the caregivers would drop 19 percent, from $926 to $753 annually. These reduced costs were attributed to the texting service. The service allowed them to efficiently follow up with their patents and provide the right treatment.
"Cost savings could be realized with this tool as opioid addiction continues to rise and caregivers increasingly are being asked to manage additional patients," said the study's first author, Jordan Feltes, an Epharmix researcher and a second-year medical student at Saint Louis University.
The team plans to further study the messaging service with a larger group to find out how much time and money can be saved as well as how the messaging service affects a patient's treatment.
"In the midst of this national emergency, it is critical that patients and providers have clear, open channels of communication in order to mitigate the devastating impact of the opioid crisis," said Will Ross, MD, associate dean for diversity and a professor of medicine at Washington University.
The paper on this research was published in NEJM Catalyst.