Tracking technology could be the next big thing in healthcare.
Two months ago, Abilify MyCite was approved by the FDA, becoming the first drug to have an embedded ingestible sensor that records when the medication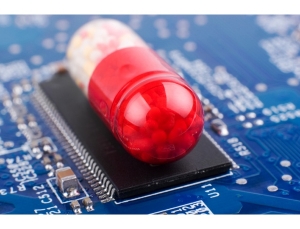 A new age in digital health. is taken. The drug is dissolved by the patient's stomach acids. The pill's sensor, which the company calls an "ingestible event marker," then sends a message to a patch worn on the patient's skin. Although the technology is still a bit clunky, it holds great promise for patients who are not always reliable about taking their medications, provides information to doctors and offers peace of mind to loved ones.
The Annals of Internal Medicine has reported that a lack of adherence to a treatment regimen causes nearly 125,000 deaths, 10 percent of hospitalizations and annually costs the already strained healthcare system between $100 billion and $289 billion. Being able to track the taking of medication can help improve patient care, allocate resources more effectively, boost productivity and provide valuable feedback, not just to help individuals but also for their caregivers. The ability to intervene in the case of non-adherence could lower hospitalization rates, and consequently, costs.
While the technology has clear repercussions in terms of understanding when patients take medicines and helping patients improve taking them on schedule, it can also help doctors and therapists understand why people abuse drugs as well. MIT Technology Review reported that researchers are studying whether being able to detect a pattern in how patients are taking pills can help physicians intervene if there's a change in that pattern. For instance, if patients begin taking more pills or change the time when they take them, doctors can be notified. In addition, researchers can correlate patient information with the propensity to abuse the medication. Brigham and Women's Hospital clinicians were among the first to apply this new technology to patients being prescribed opioids.
EtectRx is working on creating an ingestible gel capsule with a wireless sensor that fits over regular pills. The sleeve could conceivably be made to fit any medication. Like the Abilify technology, it's dissolved by stomach acid and emits a radio signal. The signal is received by a device worn around the neck, which forwards the message to the patient's physician's smartphone app via Bluetooth.
In addition, tracking usage could also help show if medicine is being passed from patients to other, unauthorized, users. A study by the National Institute on Drug Abuse reported that more than 90 Americans die daily from opioid overdose. Almost one-third of patients who take opioids for chronic pain misuse them; between four to six percent of those patients will at some point transition to heroin.
So far, there is no evidence that tracking patients via ingestibles has any positive outcome, but the research is in its infancy and is continuing. Furthermore, it must be accepted by the patient. As the pharmaceutical companies refine the technology, it will become integrated into daily life, as with an Apple Watch or a smartphone.