The U.S. Food and Drug Administration (FDA) has given a regulatory green light to the first device that reduces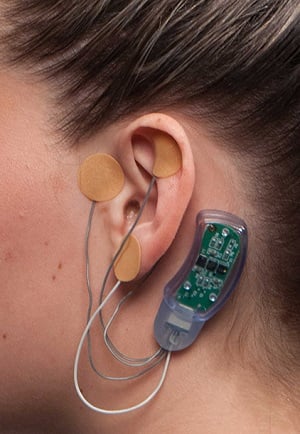 The FDA has approved marketing of a percutaneous nerve field stimulator device as an aid to reduce opioid withdrawal symptoms. (Source: Innovative Health Solutions, Inc.) opioid withdrawal symptoms.
The NSS-2 Bridge from Innovative Health Solutions (Versailles, Ind.) adheres to the skin behind the patient's ear. The small electrical nerve stimulator contains a battery-powered chip that emits electrical pulses to stimulate branches of certain cranial nerves, which may provide relief from opioid withdrawal symptoms. The device can be used for up to five days during the acute physical withdrawal phase, often marked by sweating, gastrointestinal upset, agitation, insomnia and joint pain.
The agency reviewed data from a single-arm clinical study of 73 patients undergoing opioid physical withdrawal. The study evaluated patients' clinical opiate withdrawal scale (COWS) score, which is a clinical assessment conducted by a health care professional that measures opioid withdrawal symptoms. COWS scores range from 0-36+; the higher the number, the more severe the withdrawal symptoms are to a patient.
Prior to using the device, the average COWS score for all patients was 20.1. All patients posted a reduction in COWS of at least 31 percent within 30 minutes of using the device. Overall, 64 of the 73 patients (88 percent) transitioned to medication assisted therapy after five days using the device, along with any medications needed for persistent symptoms, such as nausea and vomiting.