Construction on a massive undersea fiber optic cable system has officially commenced, according to an April 4 press release. The Japan-Guam-Australia Cable System (JGA) will ultimately feature 9,500 km (around 5,900 miles) of undersea cable and a design capacity of over 36 terabits per second.
The JGA project is overseen by a consortium including RTI Connectivity, AARNet Ltd., Google, Alcatel Submarine Networks and NEC Corporation. The project is slated for completion in late 2019.
The project is divided into two north and south cables. The southern segment (JGA South, or JGA-S) between Piti, Guam and Sydney, Australia will be owned and operated by AARNet, Google and RTI. JGA North (JGA-N), which will connect Piti with Minamibōsō, Japan, is a private cable owned by RTI.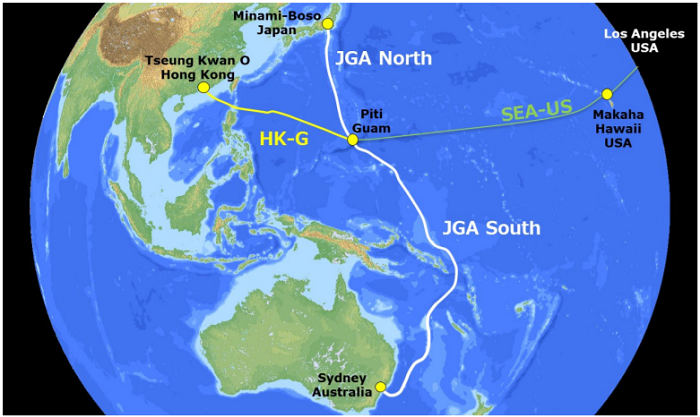 A map of JGA's planned route and its intersection with the SEA-US and HK-G cable systems. Source: RTIThe JSA system will interconnect with two existing cable systems in Guam: the Southeast Asia-U.S. Transpacific Fiber Submarine Cable System (SEA-US), with an eastern terminus in Hawaii; and the Hong Kong-Guam (HK-G) system running between those two eponymous regions.
"While both SEA-US and HK-G will provide horizontal East-West connectivity across the Pacific, JGA will now provide the much-needed vertical North-South connectivity, enabling high capacity communications to reach all corners," said Toru Kawauchi, general manager of NEC's Submarine Network Division.
"Furthermore, JGA will be the second project after HK-G to be co-financed by the Japanese government-led Japan ICT Fund, and the third project supporting RTI's investment after SEA-US and HK-G for the Japanese loan syndicate. We wish to further utilize these funds for many more cables in the future."
A primary goal of the JGA project is to open Asia and Australia to Google's Cloud platform.
"Taken together, these cable investments provide improved connectivity to [Google Cloud Platform's] five cloud regions across Asia and Australia (with more on the way), so that companies using GCP can serve their customers no matter where they are," Google said in a statement about JSA. "Whether we're delivering directions to Maps users, videos to YouTube viewers, or GCP services to businesses, we know a fast and reliable infrastructure makes all the difference."