There have been a number of new bike innovations that have come out onto the market in recent months, including the Swagcycle from Swagtron with the ability to travel at speeds up to 10 miles per hour, and the recent successful Kickstarter for the Bellcycle, a bike that can transform into a unicycle as well as carry cargo.
Now, a startup is on the verge of launching a new DIY kit that can transform any on-road bike with smooth running tires into an e-bike.
Alizeti is a Montreal, Canada-based startup developing a kit for on-the-go cyclist to repurpose a road bike and convert it into a full-featured e-bike without high costs or difficult installation issues. The basic model will be selling for $849 and comes with features such as brake lights, turn signals, a horn, Bluetooth compatibility and a sound system.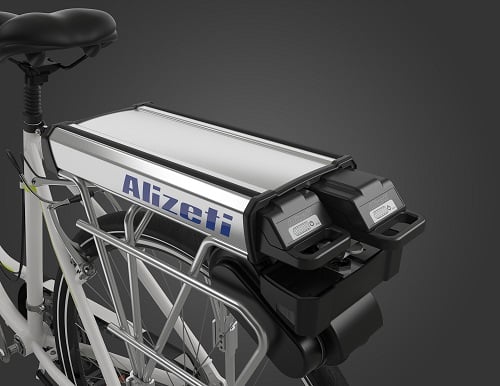 Two batteries allows the e-bike to travel about 40 miles. Source: Alizeti"The easy installation is great for cyclists who feel comfortable working on their own bike and because it can be done quickly (about the same time it takes to install a typical bike rack), their bike won't be out of commission for long, even if they take it to a bike shop for installation," Tony Francischiello, marketing director for Alizeti, tells Electronics360.
The converted e-bike can travel at speeds up to 20 mph and has a range of about 40 miles based on two lithium-ion batteries that come with the kit.
Bluetooth installed in the system can be used for both audio and data, or to play music and transmit and display data to the Alizeti App to provide riding stats such as distance, time and speed. The integrated sound system has leisure, security and safety functionalities.
"If someone tries to steal or tamper with your bike, the sound system is used as an alarm," Francischiello says. "As long as the power is on, this feature works even if the motor is not running. You can connect with your phone via Bluetooth to play music while ride the bike, which is much safer than using headsets. The music can also serve as a signal that you are approaching other cyclists or pedestrians."
Alizeti says they will be launching a Kickstarter campaign in the next few weeks in order to drum up support for the DIY e-bike kit as well as establish brand recognition. To keep up to date for when the Kickstarter campaign launches, click here.