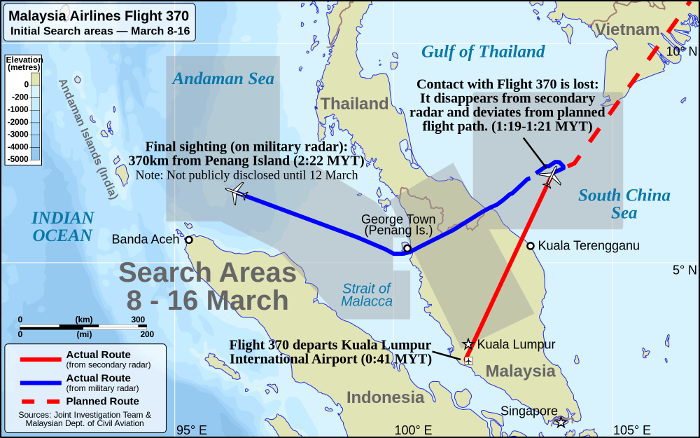 The flight path and initial search areas for Malaysia Flight 370 from March 8-16, 2014. Source: Andrew Heenan / CC BY 3.0
On March 8, 2014, Malaysia Airlines Flight 370 disappeared en route from Kuala Lumpur, Malaysia to Beijing, China. Carrying 12 crew and 227 passengers, the Boeing 777-200ER jetliner contacted air traffic control by voice for the last time less than an hour into the flight, after which its transponder stopped functioning and it veered westward toward the Andaman Sea.
The plane vanished completely from radar range about an hour later, although it continued to fly for another several hours, responding periodically to status requests over its satellite communication system.
But without a way to pinpoint the aircraft's position over the vast expanse of the open ocean, search-and-rescue efforts were in vain, and only a few pieces of debris scattered on beaches in the western Indian Ocean have ever been found. All 239 passengers and crew were presumed dead.
The event was a catalyst for efforts to institute more rigorous tracking standards for aircraft.
Stricter Guidelines
Late last year, the International Civil Aviation Organization (ICAO), the United Nations civil aviation body responsible for setting global aviation standards, moved to adopt stricter guidelines. It proposed amendments to the Chicago Convention, the document signed on December 7, 1944 that established the ICAO as well as rules governing aircraft operation. The revisions to Annex 6 of the Convention, the section covering the international operation of aircraft, include stricter flight tracking standards.
The ICAO ultimately aims to create a Global Aeronautical Distress Safety System (GADSS) with specific requirements for commercial aircraft tracking and flight data recovery. In the event of a crash, GADSS would ensure that efforts to locate survivors and recover flight data are successful by providing accurate tracking of aircraft, including those whose flight paths venture into traditionally hard-to-track areas like remote oceans.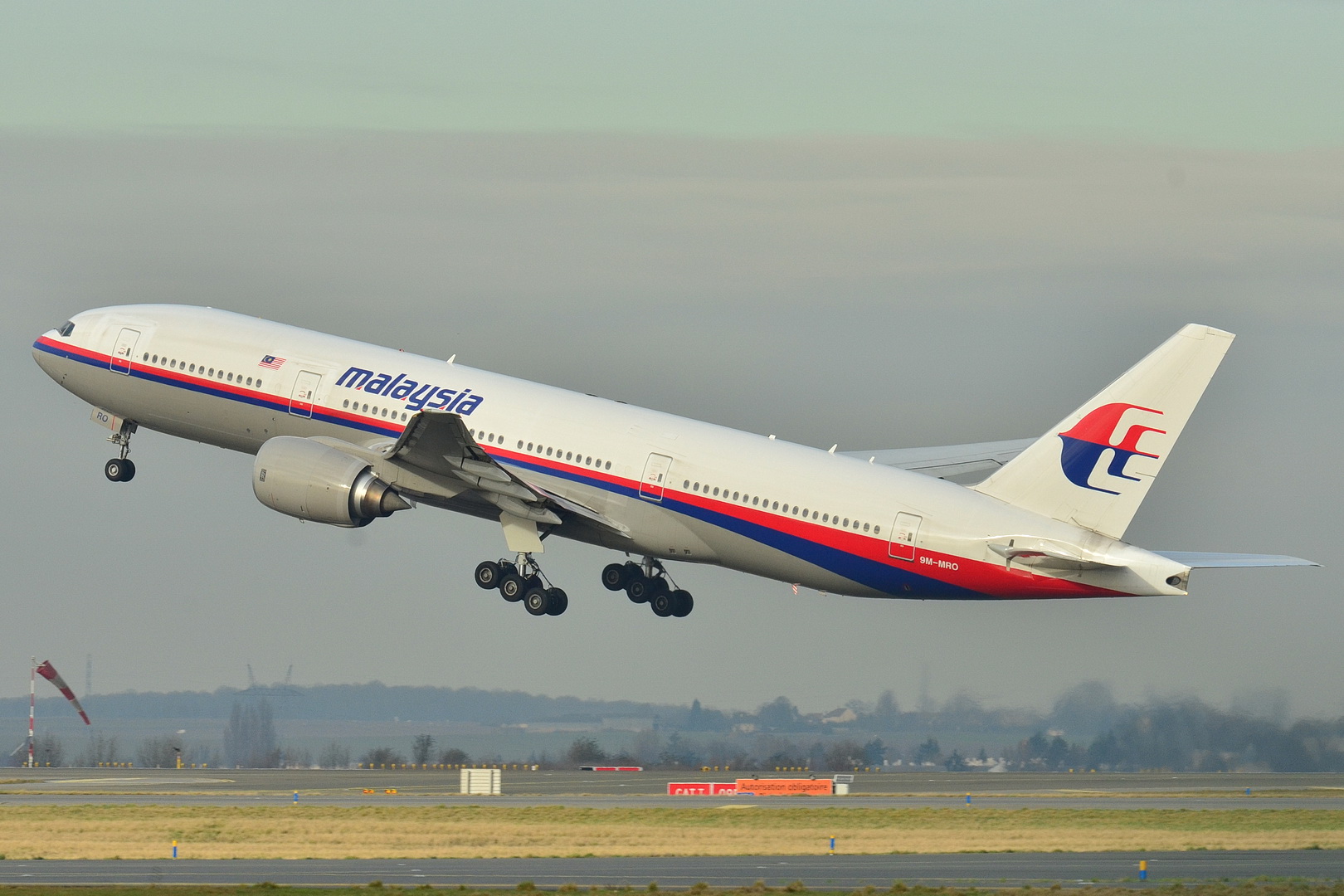 Malaysia Airlines Boeing 777-200ER (9M-MRO) – the same aircraft that disappeared on Flight 370 – shown here departing France's Roissy-Charles de Gaulle Airport. Source: Laurent ERRERA / CC BY-SA 2.0
Improved Standards
Even before MH370's disappearance, regulators were pushing for better safety standards. In 2012, the Federal Aviation Administration (FAA) issued a Technical Standard Order requiring that underwater locator beacons on flight data recorders be designed to last 90 days starting in January 2018. The beacon on MH370's recorder was designed to last only 30 days.
The new proposals by the ICAO also require enhancements to data recorder functionality in addition to improved aircraft position reporting. Starting in November 2018, all planes must report their longitude, latitude and altitude every 15 minutes.
For aircraft manufactured after January 1, 2021, cockpit voice recorders must be capable of recording over a longer time period – at least 25 hours covering entire flights including crew preparations prior to departure.
Also starting in 2021, new aircraft must have a means to recover flight data in a timely manner, such as by data streaming or automatically-deployable recorders triggered in the event of an accident. In addition, newly manufactured aircraft should have a position reporting capability that transmits the plane's location at least once per minute when the aircraft is in distress.
The requirements for 15-minute position reporting and 90-day underwater beacon duration are largely achievable with technology available today. Several companies already offer or are working to introduce solutions that help airliners meet the new standards.
Automatic Dependent Surveillance – Broadcast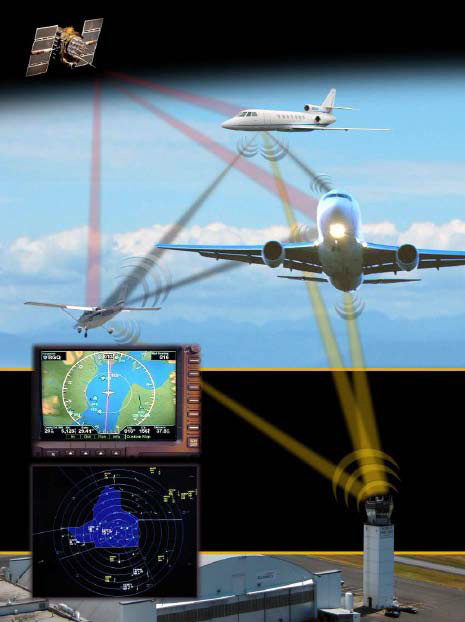 NextGen will modernize the U.S. national airspace system. Part of the initiative will require aircraft to be equipped for ADS-B, a satellite-based aircraft position determination system. Source: Federal Aviation Administration
Many of the solutions revolve around a technology called Automatic Dependent Surveillance – Broadcast (ADS-B). ADS-B is a satellite-based aircraft position determination system that is a critical component of the United States' Next Generation Air Transportation System (NextGen) as well as the latest air traffic control programs in some other nations. The U.S. will require jetliners to be ADS-B-equipped by January 1, 2020.
Satellite networks equipped with global ADS-B tracking capabilities will soon be available. This is especially important when a plane crashes in remote oceanic or polar regions. In the past, wreckage discovery in these areas could be equated to finding a needle in a haystack due to limited or nonexistent tracking coverage.
In 2014, uncertainty over the location of Flight 370's demise meant that rescuers were presented with an area of 2,000,000 square miles – roughly ten times the size of France – through which they would need to search for the wreckage. With new 15-minute updates provided by ADS-B tracking, the search area would shrink to 65,000 square miles.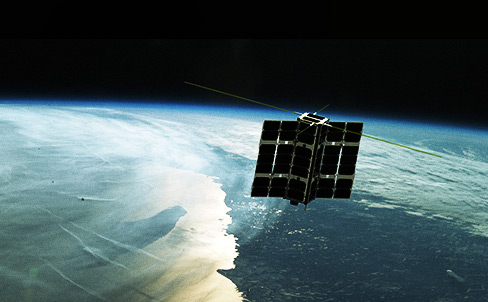 Spire's constellation of nanosatellites will soon provide an ADS-B tracking service for aircraft called AirSafe. Source: SpireSatellite Services
Satellite data company Spire will soon offer a new aircraft tracking service called AirSafe utilizing a constellation of its own ADS-B satellites. Providing tracking updates every 15 minutes, AirSafe will be fully operational in 2018. The 15-minute tracking interval is also met by Blue Sky Network's position tracking service hosted on the Iridium network of telecommunication satellites.
The next generation of the Iridium network – Iridium Next – will host an enhanced ADS-B aircraft tracking service provided by Aireon starting in mid-2018 when the constellation is completed. Iridium Next's 66 low-earth orbit satellites will be equipped with secondary ADS-B payloads delivering global, one-minute interval position information.
Aerial & Maritime Ltd. (A&M), a Mauritius-based startup spun off by GomSpace, a Danish cubesat manufacturer, will operate its own ADS-B tracking service through a network of nanosatellites starting with equatorial service in 2018. The company plans to expand to full global coverage with a constellation of as many as 80 nanosatellites by 2021. The network will also carry Automatic Identification System (AIS) payloads for tracking maritime vessels.
With satellite-based aircraft tracking that extends to every corner of the globe soon becoming commonplace, search-and-rescue efforts for disasters like Malaysia Airlines Flight 370 could receive a boost. If emergency personnel know where to look for downed aircraft, any potential survivors could be rescued in time. At the very least, flight data recorders could be recovered to demystify what went wrong.