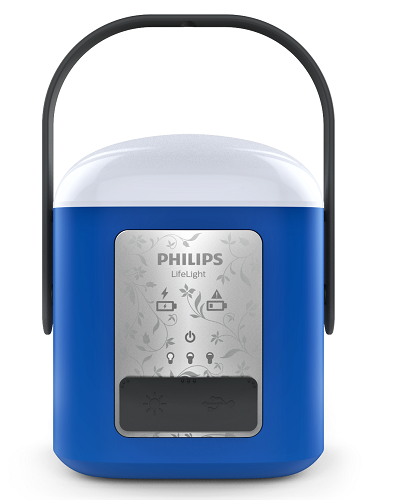 The LifeLight portable solar lantern. Source: Philips LightingPhilips Lighting is moving forward with its solar-powered light emitting diode (LED) lighting portfolio and installation with a pair of new products and design projects.
Philips has introduced two new products to its solar-powered lighting portfolio, including an all-in-one street light, dubbed SunStay, which includes a solar panel, battery and light in one housing and a solar lantern, called LifeLight, which comes with a replaceable battery.
The company also completed two projects for street lighting, including 84,000 solar street lights in India and 700 sets of connected solar street lights with remote monitoring and data analysis capabilities in Thailand.
The SunStay is compact and easy to install while producing an output of 2,000 lumens and an efficacy of 175 lm/W, which Philips claims is more efficient than existing systems in the solar street lighting market. The SunStay street light will be launched globally in the second quarter of this year.
The LifeLight solar lantern includes a USB port for charging phones and other devices as well as a replaceable battery, which will help to replace kerosene-powered lamps in many parts of the world where lighting through electricity is unavailable.