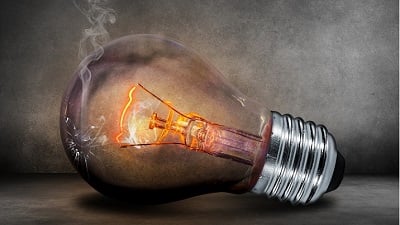 Tunable lighting, also known as human-centric lighting (HCL), offers a host of tangible benefits. The advanced lighting systems can illuminate a room with a breadth of brilliant hues, brightness levels and color temperatures. While the dramatic effects of HCL have received praise, the technology driving these complex lighting systems has presented design engineers with a host of new challenges that affect cost, performance, reliability and manufacturability.
Thermal Management
To deliver a true tunable light source an array of light-emitting diodes (LEDs) that emit multiple wavelengths are required. This poses space constraints on the design and in order to package the light source in a single LED lamp manufacturers have opted for chip scale packaged (CSP) LEDs.
CSP LEDs are one form of device miniaturization. The LEDs are stripped down and approach the size of the functional element. Designing the element may be complex, but the related issue is heat dissipation.
CSP LEDs can exceed 10W/mm2 and their efficiency is typically around 40 percent. The remaining power is lost producing heat that needs to be dissipated, and since the CSP eliminates the conventional sub-mount/package base, thermal management is now addressed by the luminaire integrators and not the LED manufacturer.
In order to distribute the heat from LEDs over a larger area, suppliers have traditionally opted for metal-clad printed circuit boards (MCPCB). MCPCBs incorporate a thin sheet of copper glued to the PCB substrate with a thermally conductive epoxy dielectric. The thin copper sheet and thermally conductive epoxy help distribute heat over a greater area, and while this suffices for traditional lighting systems its performance and reliability are jeopardized by the HCL design.
The HCL design exacerbates thermal management issues due to the number of LEDs in close proximity. To address thermal dissipation luminaire integrators needed a higher performance substrate that was cost-effective and easy to manufacture.
An alternative MCPCB design that provides superior thermal conductivity incorporates a sub-micron layer of alumina oxide on the aluminum substrate below the thin copper sheet. The "nanoceramic" is atomically bonded to the board increasing the thermal resistance from the top side of the metal-clad sheet to the underside of the aluminum substrate.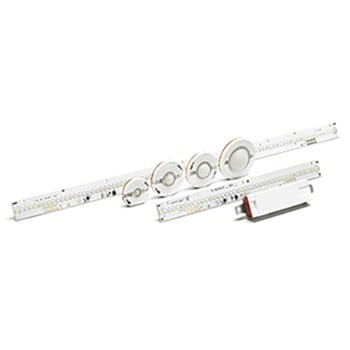 Source: Legrand
Until recently nanoceramic MCPCBs have been reserved for high power LED applications as higher costs and reduced manufacturability have limited their market share. Innovative manufacturing techniques have helped producers scale up production and drive down the cost of unit production.
Solutions
In order to deliver performance and reliability while at the same time addressing cost requirements and manufacturability suppliers have been forced to invest in next-generation production systems. This presents additional challenges as these investments carry a significant overhead, heightened risks and longer lead times that affect the time to market.
Strategic partnerships are a solution that helps producers combat these issue and in the venue of HCL Legrand has been able to produce Wattstopper® Human Centric Lighting, a precision dimming and tunable lighting system, by partnering with Lumenetix, a recognized leader in tunable color technology.
Next generation systems and advanced manufacturing techniques force producers to think outside the box of conventional wisdom. Proprietary technology is a fading concept, and the heightened transparency of innovative manufacturing techniques that are shared in a strategic partnership allows suppliers to address cost, performance, reliability and manufacturability.
Resources:
How Tunable Human-centric Lighting is Placing Greater Thermal Demands on LEDs