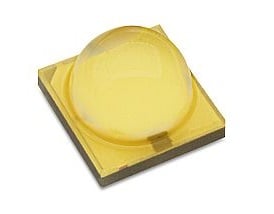 The new Luxeon V module. Image credit: Lumileds
Lumileds has introduced a new flux density light emitting diode (LED) module that the company claims produces 50 percent higher output than competing devices.
The Luxeon V produces more than 1,700 lumens at 5700 K and 70 CRI in a compact 4.0 mm x 4.0 mm footprint. The LEDs are based on Lumileds next-generation patterned sapphire substrate (PSS) chip scale packaging (CSP) technology that enables high efficacy at high drive currents, higher max drive currents and higher Im/mm2.
The nominal drive current is 1.4 A and may be driven up to 4.8 A, which Lumileds claims is 60 percent higher than competing emitters. The device allows designers to use smaller heat sinks for sleeker, more compact fixtures because of a low thermal resistance of 0.8 K/W.