Ironwood Electronics is introducing SF-ball grid array (BGA)1153A-B-42F and LS-BGA1153A-41 BGA SMT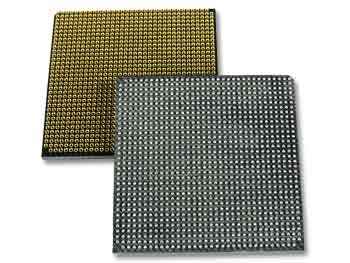 Source: Ironwood Electronicsadapter set, a low cost and reliable socket for Xilinx 1153 pin BGA ICs. The adapter pair consists of SF-BGA1153A-B-42F, patented female sockets with machined pins epoxy over molded into an assembly that matches the male pin LS-BGA1153A-41. The epoxy over molded SF-BGA1153A-B-42F is soldered to a PCB using standard soldering methods.
The LS-BGA1153A-41 BGA adapter, to which the user attaches a target 1153 BGA chip, is plugged into the female socket on the board, whereby the chip is interconnected and the system is ready to go. The SMT adapters have the same solder ball types as the IC they are emulating. The force to mate conventional adapters can exceed 113 pounds or 502 Newtons for a 1,000 pin device. The Giga-snaP BGA Surface Mount Feet Adapters require half the force (56 pounds or 248 Newtons) for the 1,153 pin device. The electrical path of the Giga-snaP BGA SMT adapters is a high priority performance issue. The physical length from the top connection point on the male adapter to the solder ball on the female socket is 4.5 mm. This is the shortest connection length by far and therefore providing better transmission of high frequency signals.
See a complete description and drawings of Giga-snaP, 1 mm pitch BGA Surface Mount Adapters.
The SF-BGA1153A-B-42F and LS-BGA1153A-41 are available immediately. The costs are $362 and $232 respectively at quantity 1.