Drones in space that grab space junk and help repair space stations may seem like science fiction but if Elon Musk can send a Tesla into space, there is no telling where the next advancement in the future may come from.
The race for space is quickly moving beyond just what's being done at the government level and more into the private sector. At one point, what Musk and SpaceX were doing was probably scoffed at and thought to be impossible. Yet today, SpaceX stands as a leading supplier of how we are getting to space and what we may do there in the future.
The Gateway Foundation is hoping to follow in those footsteps by building a permanent orbiting space station that uses an army of drones to repair it as well as retrieve space junk that threatens satellites and other space equipment.
"To best develop human habitats in space, on the moon and Mars we need fleets of advanced drones that can build structures and repair and maintain equipment," says Dr. Thomas Spilker, chief architect of the Gateway Foundation. "There are few technical advances that could do more to accelerate the development of space than autonomous and remote piloted construction, maintenance, repair and survey drones."
The idea is to build the orbiting space that will have artificial gravity as a gateway to explore the solar system. The company has launched a side company called Orbital Assembly as a turn-key space construction company. The beginning concept is developing the drones that will help with construction as well as eliminating space junk.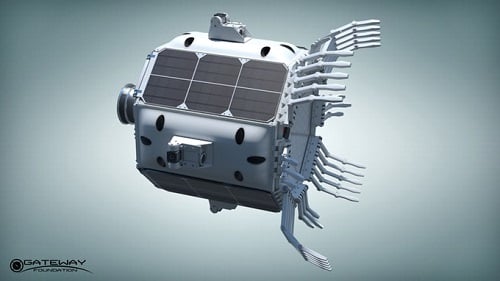 A artist rendering of a potential retriever drone. Source: Gateway FoundationThe company is working on a number of drones that could be useful in space such as the observer drone that works alongside a human in space, alerting the astronaut to dangers or objects floating away. Another is a near-proximity drone that can see things just outside of an astronaut's reach and detect errant objects with an extendable arm to bring objects back. A third drone is a retriever that is a free-flying device that can plot a course to space junk or tools and bring them back.
While the ultimate goal is for these drones to be used in a permanent space station orbiting the Earth, the Gateway Foundation says the drones could be used today for help at the International Space Station (ISS).
"What is most needed now is widespread understanding that purpose-designed robotic helpers are the pivotal element needed to re-purpose space junk, create large structures and maintain and repair both vehicles and structures in space," says John Blincow, president of the Gateway Foundation. "Drones are the technological accelerant that, together with lower cost launch vehicles, can finally make the development of space not only possible but practical."
The Gateway Foundation has started a Kickstarter in order to help develop prototypes of the drones and for testing. Learn more about this crowdfunding campaign here.