If you were alive in 1957, then you witnessed history in the making. That year, Russia successfully launched Sputnik I, the first artificial satellite, about the size of a beach ball, to orbit Earth.
Almost 60 years later, NASA's Goddard Space Flight Center lists 2,271 satellites currently in orbit. Russia has the most satellites, with 1,324, followed by the United States with 658.
Some manmade satellites take pictures of Earth that help meteorologists predict weather; others snap photos of other planets, the sun, black holes and dark matter; and some are used mainly for communications for television and phone signals. Another important role satellites play is in that of the Global Positioning System, or GPS. A group of more than 20 satellites are responsible for determining exact locations here on Earth.
According to Phillip Chamberlain, Deputy Project Scientist for NASA's Solar Dynamics Observatory (SDO), a few years ago, space groups launched only one or two satellites per month, but due to the development of CubeSats, miniaturized satellites that can be stored in the extra space of a main satellite launch, we are now seeing an influx in monthly satellite deployments.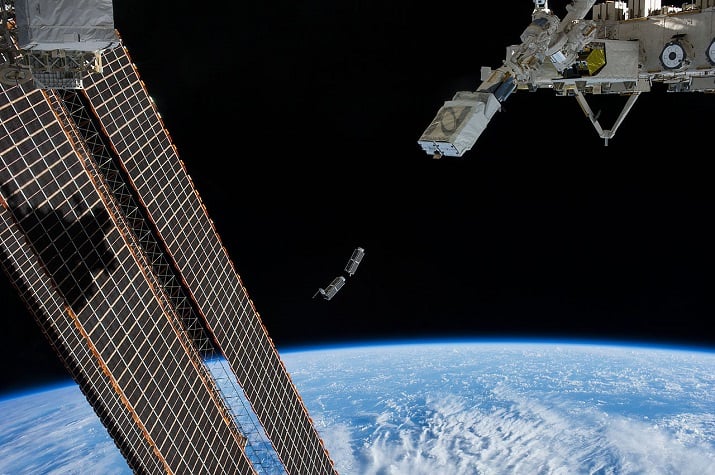 CubeSats being launched by a Japanese robotic arm. (Image Credit: NASA)
If you have ever wondered what happens to satellites in orbit, how long they can survive, or what happens when they die, it is important to note that these days, any group looking to launch a satellite needs to come up with a clear plan.
"You have to have an end-of-life plan for these satellites before you're even selected," says Chamberlain, who works with the SDO satellite that has been orbiting Earth since 2010 in an attempt to find out how the sun's magnetic field is generated, structured and converted into violent solar events such as turbulent solar wind, solar flares and Coronal Mass Ejections (CMEs).
It is now a requirement that a satellite de-orbit and burn up within 25 years of launch. One way to do this is to recruit the help of a natural process referred to as atmospheric drag, which is caused by recurrent collisions of gas molecules with a satellite. Atmospheric drag results in the decrease in the altitude of a satellite's orbit and can cause the satellite to re-enter Earth's orbit and burn up.
Chamberlain says that there are new ideas in the works when it comes to creating atmospheric drag for this purpose, such as the use of an electromagnetic tether or parachute to slow down.
While satellites are beneficial for many forms of technology here on Earth and help propel research, having a plethora of dead satellites floating around in space would contribute to the growing problem of space pollution and debris, which can increase the potential danger to space vehicles, and more specifically the International Space Station, space shuttles and other spacecraft with humans aboard.
In 2013 NASA reported that more than 500,000 pieces of debris, or "space junk," are tracked as they orbit the Earth, traveling at speeds up to 17,500 mph—fast enough for even a small piece to damage a satellite or a spacecraft.
In 2007, China contributed over 3,000 pieces to the debris problem after an anti-satellite test, which used a missile to destroy an old weather satellite.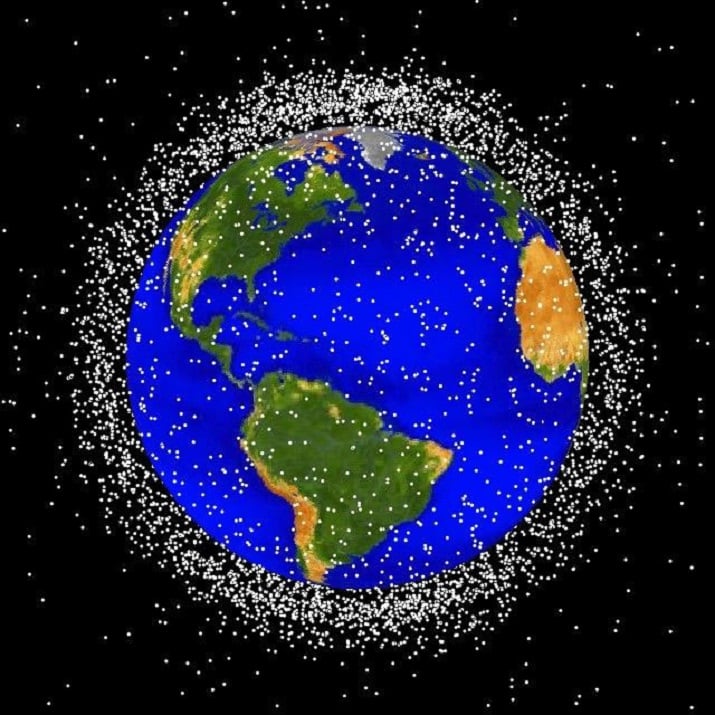 Image of space debris orbiting Earth. (Image via NASA)
So what happens if a spacecraft gets hit by a piece of this debris?
It has happened in the past, thankfully not often, though.
In 1996, a French satellite was hit and damaged by debris from a French rocket that had exploded a decade earlier. Thirteen years later a non-operational Russian satellite collided with and destroyed a functioning U.S. Iridium commercial satellite. (That collision added some 2,000 more pieces of debris to the inventory of space junk).
Chamberlain says that occasionally other satellites can get in the way of functional satellites up in orbit, and his team has received some warnings that SDO was coming close to another satellite or piece of debris. So far, the SDO team has not needed to conduct any maneuvers to dodge them, though. Typically the team is informed about a week in advance and can navigate if necessary.
One of the main objectives of the SDO mission is to study and understand the solar variations that influence life on Earth and humanity's technological systems. So Chamberlain and the other team members explore space weather's effect on satellites that are responsible for activity on Earth, such as ground-based radio communications.
One of the tools the SDO team uses in the course of its research is the Extreme Ultraviolet Variability Experiment, which measures the brightness of the sun to gain a better understanding of why and how the amount of extreme ultraviolet light from the sun changes.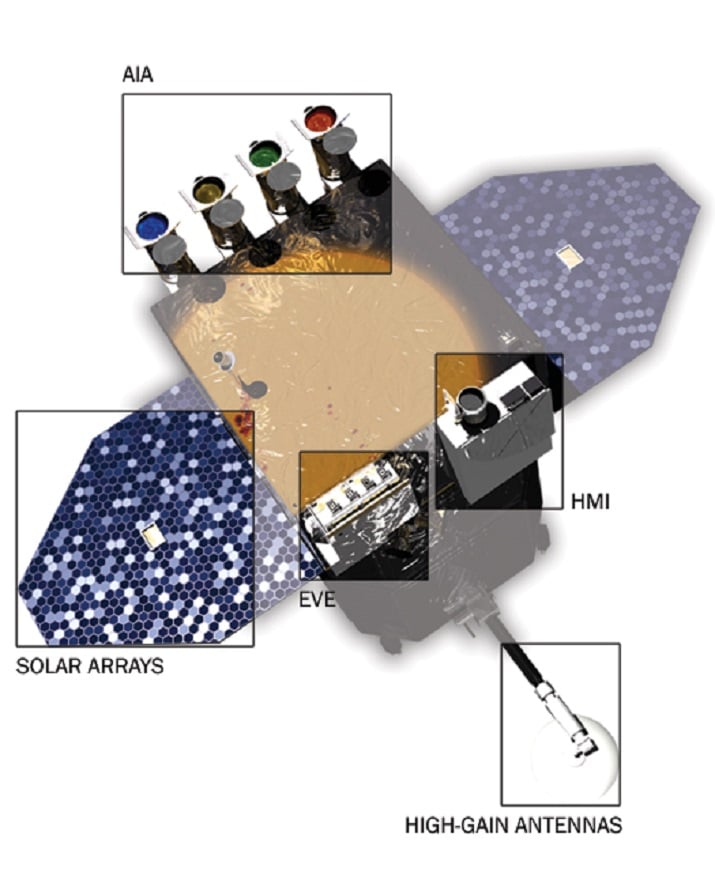 SDO Craft
"If the sun changes based on a solar flare, it also changes the upper atmosphere of the Earth," says Chamberlain.
This could cause radio waves to stop bouncing and, consequently, a radio blackout. Another negative effect of solar weather is that on GPS, which is not only used in our smartphones for navigation purposes, but also in military and aerospace applications.
GPS relies on very precise signals in a very steady atmosphere, and solar weather can lead to unsteadiness.
"So instead of your GPS being a meter off in terms of uncertainty, it could be tens or hundreds of meters off," says Chamberlain.
To express the severity of the situation, Chamberlain uses the example of landing an airplane on the runway when its GPS is off by a significant distance. "One big problem right now is prediction," he adds. Currently there is no way for scientists to predict a major solar event that could affect Earth and its technologies.
For now, the best they can do is monitor them so, in the event a solar flare were to go off, for example, the groups can issue a report alerting major organizations that their GPS is not as accurate as it should be.
While it will be hard for scientists to predict these events with certainty, Chamberlain says that they would at least like to get to a point where they can know when there will not be a solar flare. This knowledge could prevent any life-threatening events from happening while astronauts are conducting space walks or even for future Mars missions.