Researchers at Macquarie University, Australia, are taking the fiction out of science fiction, at least where high power lasers are concerned. They are developing a concept similar to the Star Wars Death Star 'superlaser' -- where multiple laser beams converge into a single intense output beam that can be directed to the intended target. A novel approach to beam combination and power scaling based on Raman conversion in diamond has been proposed and demonstrated.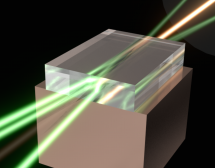 (Credit: Macquarie University)
Why develop such technology? According to co-author Associate Professor Rich Milden, "Researchers are developing high power lasers to combat threats to security from the increased proliferation of low-cost drones and missile technology. High power lasers are also needed in space applications including powering space vehicles and tackling the growing space junk problem that threatens satellites."
An ultra-pure diamond crystal is placed at the point of convergence, and the beam-combining is achieved in diamond by harnessing a co-operative effect of the crystal that causes intense light beams to transfer their power into a selected direction while avoiding the beam distortion problems of single laser technologies.
Beam combining in diamond has the unique advantage that the process also changes the color of the laser beam. The ability of diamond to rapidly dissipate waste heat is also beneficial for thermal management.