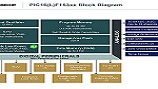 The
PIC16F15386 family
, an 8-bit PIC® microcontroller (MCU) portfolio, is now available from  Microchip Technology Inc. In addition to the current Core Independent Peripherals (CIPs), this family includes a high-accuracy 32 MHz internal oscillator and memory features like Memory Access Partition (MAP) with bootloader-friendly write-protection to prevent accidental over-write. Device Information Area (DIA) offers protected storage for unique device identification and calibration values.
The PIC16F15386 family also offers a comprehensive, easy-to-use development experience with Microchip's MPLAB® Xpress with MPLAB Code Configurator (MCC). The family is suitable for a broad range of general-purpose and low-power applications.
The scalable family offers up to 28KB Flash and 2KB RAM in 8- to 48-pin package options. It is the first 8-bit PIC MCU family to offer the 48-pin package, adding more Analog-to-Digital Converter (ADC) channels and I/Os. The family offers high levels of CIP integration to perform system functions (signal generation, motor control, safety monitoring, system communications, and human interface) outside the core while consuming as little power as possible. The MCUs also contain power management features (IDLE and DOZE modes and Peripheral Module Disable) that allow engineers to optimize power consumption and performance.