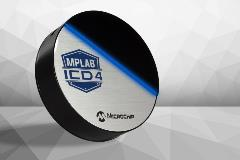 Source: Microchip Technology Inc.
Microchip Technology Inc. (Chandler, Ariz.) has launched an in-circuit programming and debugging development tool for Microchip's PIC® microcontroller (MCU) and dsPIC® digital signal controller portfolios. The MPLAB ICD 4 debugger includes all the features of the popular MPLAB ICD 3 tool while adding increased speed through a faster processor and increased RAM.
The improvement in speed is accomplished through a 32-bit MCU running at 300 MHz. The faster processing, along with an increased buffer memory of 2 MB, results in a product that is up to twice as fast as its predecessor.
The puck-shaped MPLAB ICD 4 is housed in a durable, black case with a brushed aluminum top and is accented with an LED light strip to indicate debugging status.
The tool features:
A wider target voltage range, from 1.20 to 5.5 V
An optional 1 amp of power (using an external power supply)
Selectable pull-up/pull-down option to the target interface
Configurable interface speed for optimized programming and debugging
Intelligent, robust interface with fault detection and immunity
JTAG debugging capability
Microchip's MPLAB ICD 4 development tool is easy to use and supports all PIC microcontrollers and dsPIC digital signal controllers in Microchip's portfolio through the MPLAB X Integrated Development Environment (IDE). This simplifies the design process for customers when they choose to migrate from one PIC MCU to another to meet the needs of their application.