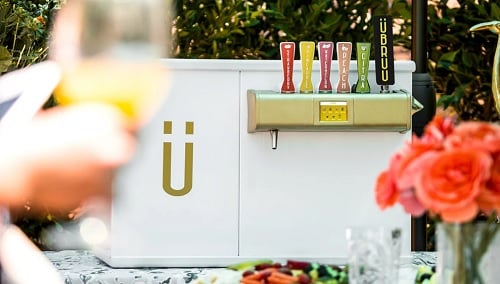 The draft beverage system can hold up to 12 standard size 12 ounce to 22 ounce bottles, eight standard champagne bottles or four 64 ounce. (Source: U-Bruu)Calling all budding brew masters and purveyors of cold drinks, there is a new gadget in town that helps eliminate having a warm beer or soda ever again.
Because no one wants to drink a warm beer or room temperature sparkling wine, a group of developers from San Diego have create the U-Bruu, a draft countertop gadget that is equipped with CO2 and nitrogen cartridges, stores several bottles equating to gallons of liquid and, maybe most importantly, preserves carbonated drinks up to a month. The system also has the capability to infuse drinks with more than 30 flavors.
About the size of a toaster oven, the countertop draft system supports beer, sparking wine, soda, cold-brew coffee, Kombucha and sparking water. The gadget supports bottles ranging from 12 to 64 ounces and can hold up to 12 standard size 12 to 22 ounce bottles, eight standard champagne bottles or four 64 ounce ones, and it cools the beverages by using ambient cold air to chill them over time. The outside area of the gadget can be hooked up to an adapter to accommodate additional bottles from 32 to 64 ounces.
The adjustable coil temperature control inside the U-Bruu uses a freezing coil to cool, so warm beverages inserted into the machine can be dispensed at cool drinking temperature immediately, the company says. A simple LCD touch screen allows user to choose the beverage they want and it configures itself to pour by identifying the type of beverage, the type of gas needed (either CO2 or nitrogen) or by what bottles or growlers are inside the U-Bruu.
"While the machine was originally manufactured for beer, functionality evolved with high quality engineering, and the potential was realized for the many beverages that could be dispensed, almost by accident," says George Bruton, CEO of U-Bruu.
The U-Bruu is currently on Kickstarter, where it has already reached its goal, raising funds in order to get the product into mass production and distribution.
To learn more about the U-Bruu Kickstarter, visit: https://www.kickstarter.com/projects/ubruu/u-bruu-the-ultimate-beverage-bar