Artificial intelligence (AI) is helping humans more and more every day. AI has been used to detect poachers in real time before they reach their prey, to read human brains to find out what song they are listening to, to further develop robots to interact better with humans and more. Now AI has been used to help doctors with medical diagnosis.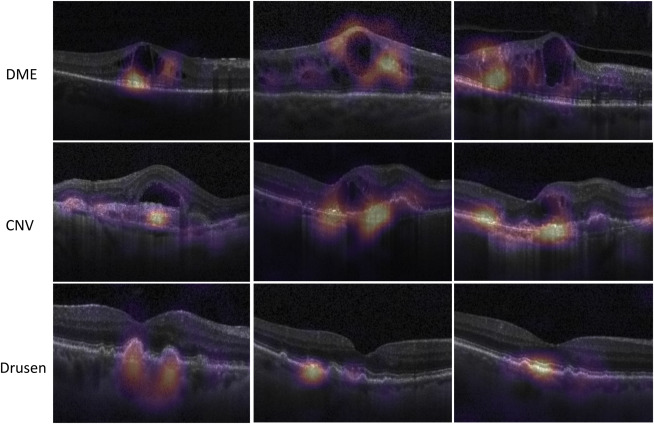 Additional examples of occlusion test images, illustrating how an occluding kernel was convolved across the input image to identify areas contributing to the algorithm's determination of the diagnosis. (Source: Cell)
Scientists from the U.S. and China have developed an AI platform that can recognize two common retinal diseases and rate the severity of the diseases. It can distinguish bacterial and viral pneumonia in children after chest X-rays.
"Macular degeneration and diabetic macular edema are the two most common causes of irreversible blindness but are both very treatable if they are caught early," says senior author Kang Zhang, a professor of ophthalmology at the University of California, San Diego's Shiley Eye Institute. "Deciding how and when to treat patients has historically been handled by a small community of specialists who require years of training and are concentrated mostly in urban areas. In contrast, our AI tool can be used anywhere in the world, especially in the rural areas. This is important in places like China, India and Africa, where there are relatively fewer medical resources."
What makes this system different from previous machine learning platforms is that it uses a new technique called transfer learning. Transfer learning is where general knowledge is used to classify diseases. It allows the AI system to learn from a smaller dataset than other systems. The new AI platform can also tell doctors what it thinks would be the correct treatment for a disease, a new ability for these kinds of systems.
During testing, the researchers used occlusion testing. This testing let the system show the doctors the most important area in the scanned images.
"Machine learning is often like a black box, where we don't know exactly what is happening," Zhang explains. "With occlusion testing, the computer can tell us where it is looking in an image to arrive at a diagnosis, so we can figure out why the system got the result it did. This makes the system more transparent and increases our trust in the diagnosis."
To test the accuracy of the system, the researchers compared the system's diagnoses to diagnoses from five human ophthalmologists.
"With simple training, the machine could perform to the level of a well-trained ophthalmologist. It could generate a decision on whether or not the patient should be referred for treatment within 30 seconds and with more than 95 percent accuracy," Zhang says.
The typical method to diagnose retinal diseases is a person goes to a general medical doctor, then a general ophthalmologist and then a retina specialist. This is a lot of different steps to go through before reaching diagnosis and treatment, which wastes time and could allow the disease to get worse.
"In addition to economic benefit, there are significant non-economic benefits in increased personal and social productivity regarding a patient's wait time spent to see a doctor and better access to care in remote areas," Zhang says.
When tested, the computer could determine the difference between viral and bacterial pneumonia with 90 percent accuracy or more.
The system could have many more uses in the medical field, like distinguishing cancerous and noncancerous growths from a CT scan or MRI.
The system is available for other groups to use. The paper on this research was published in Cell.