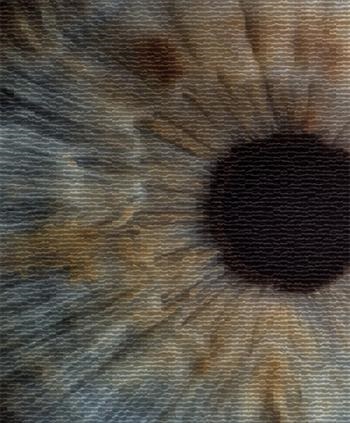 Thousands of optical coherence tomographs (OCT) form the iris and pupil of a human eye. OCTs are a non-invasive scan commonly used in clinics to diagnose diabetic retinopathy and macular degeneration. Source: Daniel Kermany and Kang ZhangA new computational tool can screen patients with common but blinding retinal diseases, potentially speeding diagnoses and treatment.
Existing computational approaches are time- and cost-intensive, and require using millions of images to train an artificial intelligence (AI) system. A team of international researchers used an AI-based convolutional neural network to review more than 200,000 eye scans conducted with optical coherence tomography, a noninvasive technology that bounces light off the retina to create two- and three-dimensional representations of tissue.
A transfer learning technique, in which knowledge gained in solving one problem is stored by a computer and applied to different but related problems, was then applied. For example, an AI neural network optimized to recognize the discrete anatomical structures of the eye, such as the retina, cornea or optic nerve, can more quickly and efficiently identify and evaluate them when examining images of a whole eye. This allows the AI system to learn effectively with a much smaller dataset than traditional methods.
Next, occlusion testing was added: the computer identifies the areas in each image that are of greatest interest and the basis for its conclusions. The research focused on macular degeneration and diabetic macular edema, two common causes of irreversible blindness. If detected early, both conditions are treatable. Machine-derived diagnoses were compared with diagnoses from five ophthalmologists who reviewed the same scans. In addition to making a medical diagnosis, the AI platform also generated a referral and treatment recommendation not done in previous studies.
With simple training, the machine performed similar to a well-trained ophthalmologist and could generate a decision on whether or not the patient should be referred for treatment within 30 seconds, with more than 95 percent accuracy.
The AI tool was also tested for diagnosing childhood pneumonia, a leading cause of death worldwide in children under the age of 5, based on machine analyses of chest X-rays. The computer was able to differentiate between viral and bacterial pneumonia with greater than 90 percent accuracy. Viral pneumonia is treated primarily with symptomatic care as the body naturally rids itself of the virus. Bacterial pneumonia tends to be a more serious health threat and requires immediate treatment with antibiotics.
The scientists have open-sourced published their data and tool so that others can further improve, refine and develop its potential. The research appears in the journal Cell.
Researchers from Guangzhou Medical University (China), University of California-San Diego, YouHealth AI, Sichuan University (China), Guangzhou Medical University (China), Heidelberg Engineering (Germany), Beihai Hospital (China), University of Texas Health Science Center, Shanghai General Hospital and Beijing Tongren Hospital (China) and Qualcomm Inc. participated in this study.