Wearable technology has gained a lot of traction the last few years. According to IDC, in 2017 there were 115.4 million units sold. This market is led by Apple with 21% of the market share, followed by Fitbit (14.2 percent), Xiaomi (13 percent) and Garmin (6.5 percent). Apple Watches, Fitbits and other technologies allow you to track your steps, distance traveled, elevation changes, time spent standing versus sitting and other biometrics. They also track your heart rate, can estimate your VO2 max, resting and active calories burned and even how well you sleep.
The wearable technology market is just beginning to ramp up. It is estimated that in 10 years wearables will be a $150 billion market. An interesting side effect of this rapid adoption is an exponential increase in user's day-to-day collected health data. Over the past 50 years or so this same health data has been collected sporadically. Usually when a patient went to their doctor for a checkup or when they were sick. It was only when a patient was admitted to a hospital or was determined to have a significant disease that their vitals, such as heart rate or blood pressure, were measured regularly.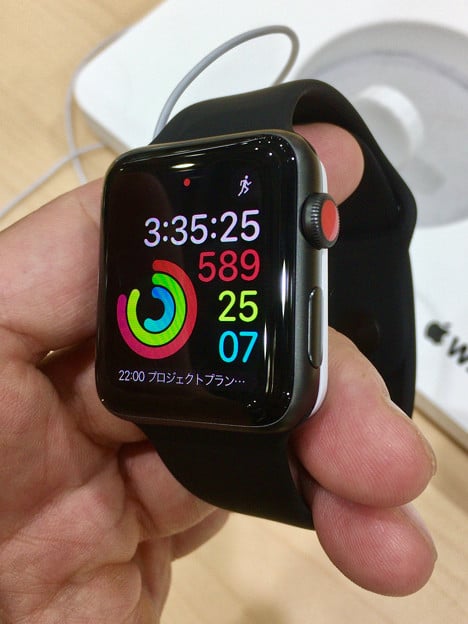 As wearable technologies becomes more prevalent, the day to day vitals of individuals will become available for analysis.The Greek roots of the word diagnosis are dia, which means "apart," and gignoskein, which means "recognize or know." This means that diagnosis is the act of recognizing something apart from the rest. The way doctors diagnose is by looking for symptoms within the context of the patient's personal and family health history. If they recognize a potential problem, they then will order additional tests such as MRIs, X-rays or bloodwork. Doctors do this because they want as much data as possible in order to make an accurate diagnosis.
All of the follow-up tests are predicated on the doctor identifying the early signs of a problem. Unfortunately, the early evidence of a disease can be difficult to spot, particularly when the doctor only sees the patient twice or three times a year. With so little data the doctor must be extra vigilant, and even then they are limited to looking for issues related to the patient's family history or symptoms the patient relays. This is why doctors will often seemingly make small talk with patients. They are trying to coax out any information they can to help identify potential issues early on. They ask if the patient has been sleeping well, under stress or other factors. Doctors try to get as much information as possible to give themselves the best chance possible to catch problems early.
At this point, it should be clear that a lack of data is a critical obstacle for doctors in the early diagnosis of diseases. The healthcare system works wonderfully once a problem has been identified. The system has even gotten better at anticipating issues in at-risk patients such as pregnant women, young children and older patients, and requiring more frequent visits with more detailed tests. However, for the vast majority of individuals, the lack of data represents a very real risk. Wearable technologies will likely change that significantly by providing various data for analysis.
The Role of AI
Of course, it would be impractical for a doctor to try and sort through the mountain of data a wearable technology can produce for each of their patients. An additional layer of technology will be necessary if this data is to be understood and applied correctly. Artificial intelligence (AI) offers the best chance at turning this data into meaningful improvements in diagnosis. It isn't hard to imagine an AI that takes your data and analyzes it, followed by recommending a visit to the doctor or certain tests when it detects an abnormality in the user's vitals data.
An AI should be more sensitive in its diagnosis since it will have a baseline. If a patient's resting heart rate jumps 15 beats per minute over the course of a month, that could easily be missed by a doctor who only has a few heart rate data points to go by. The wearable, however, will provide thousands of points of data which would allow such a large jump to be easily identified and a course of action recommended. AIs are particularly good at taking in many different sources of data and identifying patterns. As the wearables market evolves and sensors become more sophisticated, AI will have more and more data to work with which should improve diagnostic accuracy.
Data such as body temperature, blood pressure, heart rate and heart rate variability should all be possible to monitor with sensitive external sensors while blood sugar, blood oxygen levels and other measurements could also be monitored with very small invasive techniques. The result would be a mountain of data for the AI. As time goes by and patients get sick, subtle signals in these vitals will be identified, creating an even more accurate AI. It's not a stretch to say that the additional data provided by wearables, combined with the analysis of AI, could revolutionize diagnosis the way that penicillin revolutionized treatment.
It's still early, but it's clear that wearable technologies hold a lot of promise for improving healthcare. Early diagnosis has been shown to greatly increase the chances of survival for most diseases including heart disease and most cancers. As wearable technology becomes more prevalent, and the sensors and technology involved become more sensitive, it is not hard to anticipate a huge improvement in early diagnosis and a reduction in mortality rates. Wearable technologies, when combined with AI, should help us lead healthier, longer lives.