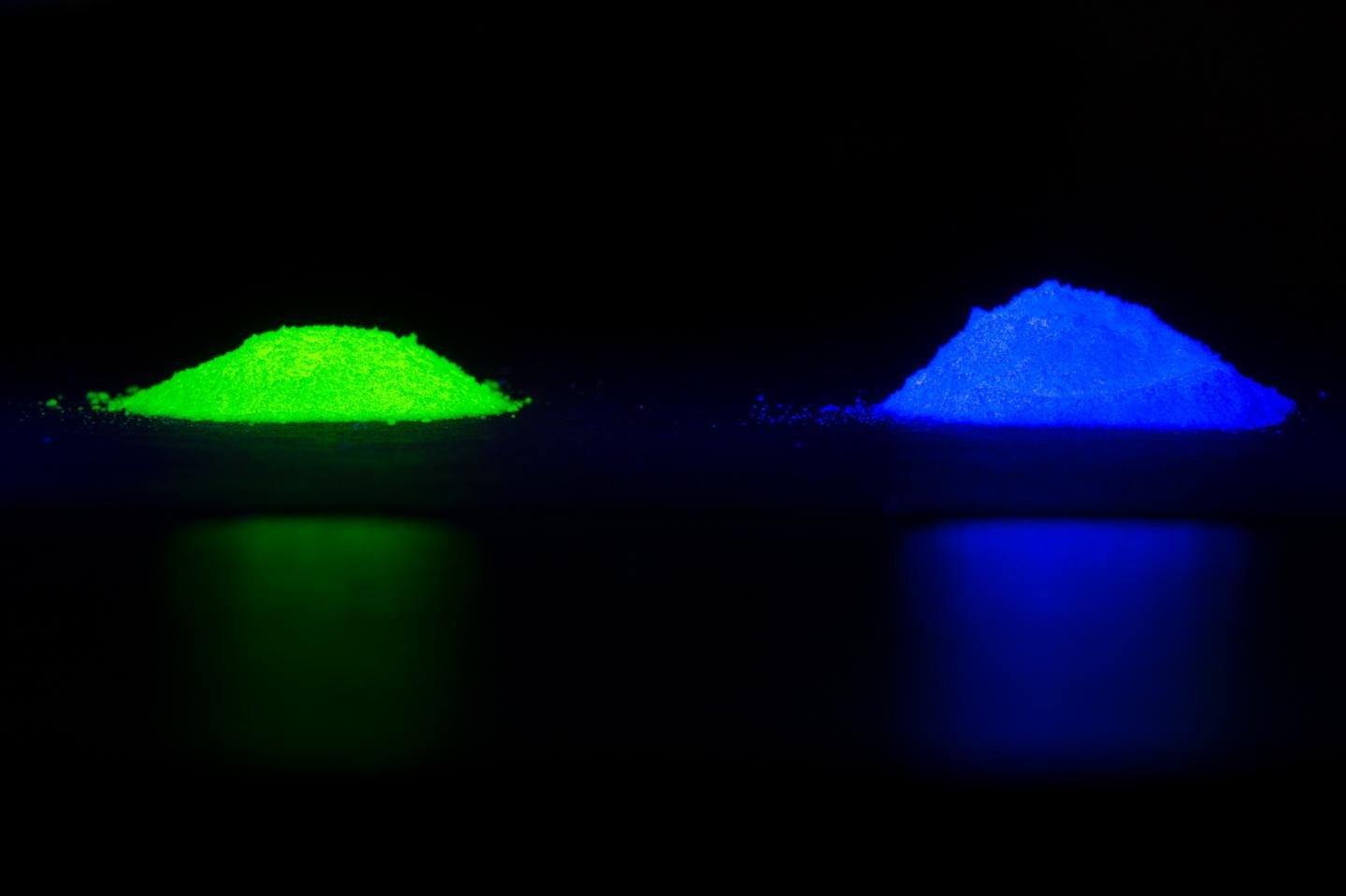 Under UV light, the SLAO phosphor emits either green-yellow or blue light depending on the chemical activator mixed in. Source: David Baillot/UC San Diego Jacobs School of Engineering
A new phosphor material that creates stronger and clearer LEDs has been developed by engineers from the University of California San Diego. The team used data mining and computational tools to discover this new material. It is one of the first phosphors to be inexpensive and easy to produce.
Phosphors are substances that emit light. They are a key ingredient to making white LEDs. Phosphors are a crystal powder that can absorb energy from blue or near-blue UC light. A combination of all the different colored lights is what creates a clear and bright white light.
While phosphors seem like they could be great for LEDs, until now there were a few disadvantages. There are many phosphors that are made out of rare-earth elements. This means that they are expensive, difficult to manufacture and produce poor-quality LEDs.
The new phosphorus from UC San Diego and Chonnam National University in Korea is made out of elements that are currently abundant on earth and can be created with industrial methods. The best part is it created LEDs that are very clear and vivid.
The phosphor is made out of strontium, lithium, aluminum and oxygen. The researchers discovered it through an approach developed by UC San Diego Jacobs School of Engineering. The team from the Shyu Ping Ong lab used supercomputers to predict the behavior of SLAO. SLAO is the first known material created from these elements together. The team calculated that the material would be a great performer for LED lights and they moved on to actually developed LEDs with their material.
The team built prototypes using the new phosphor and evaluated the LEDs to test how the color accuracy of the new LEDs. On average, commercial LEDs score an 80 CRI (Color Rendering Index) but the new LEDs had a CRI value greater than 90.
"Calculations are quick, scalable and cheap. Using computers, we can rapidly screen thousands of materials and predict candidates for new materials that have not yet been discovered," Ong said.
"It's not only remarkable that we were able to predict a new phosphor compound, but one that's stable and can actually be synthesized in the lab," said Zhenbin Wang, a nanoengineering Ph.D. candidate in Ong's research group and co-first author of the study.
The biggest issue that researchers currently have with the phosphor is that its quantum efficiency is only 32 percent. But they believe that this can be improved before the new LEDs are released to the commercial market.
"But we want the best of both worlds. We have achieved excellent color quality. Now we are working on optimizing the material to improve quantum efficiency," Ong said.
The paper on this research was published in Joule.