Researchers from the Electronics and Telecommunications Research Institute (ETRI) in South Korea created a next-generation display technology using a simplified process that reduces manufacturing costs. The new process and material were created to solve challenges in the micro-LED display production techniques.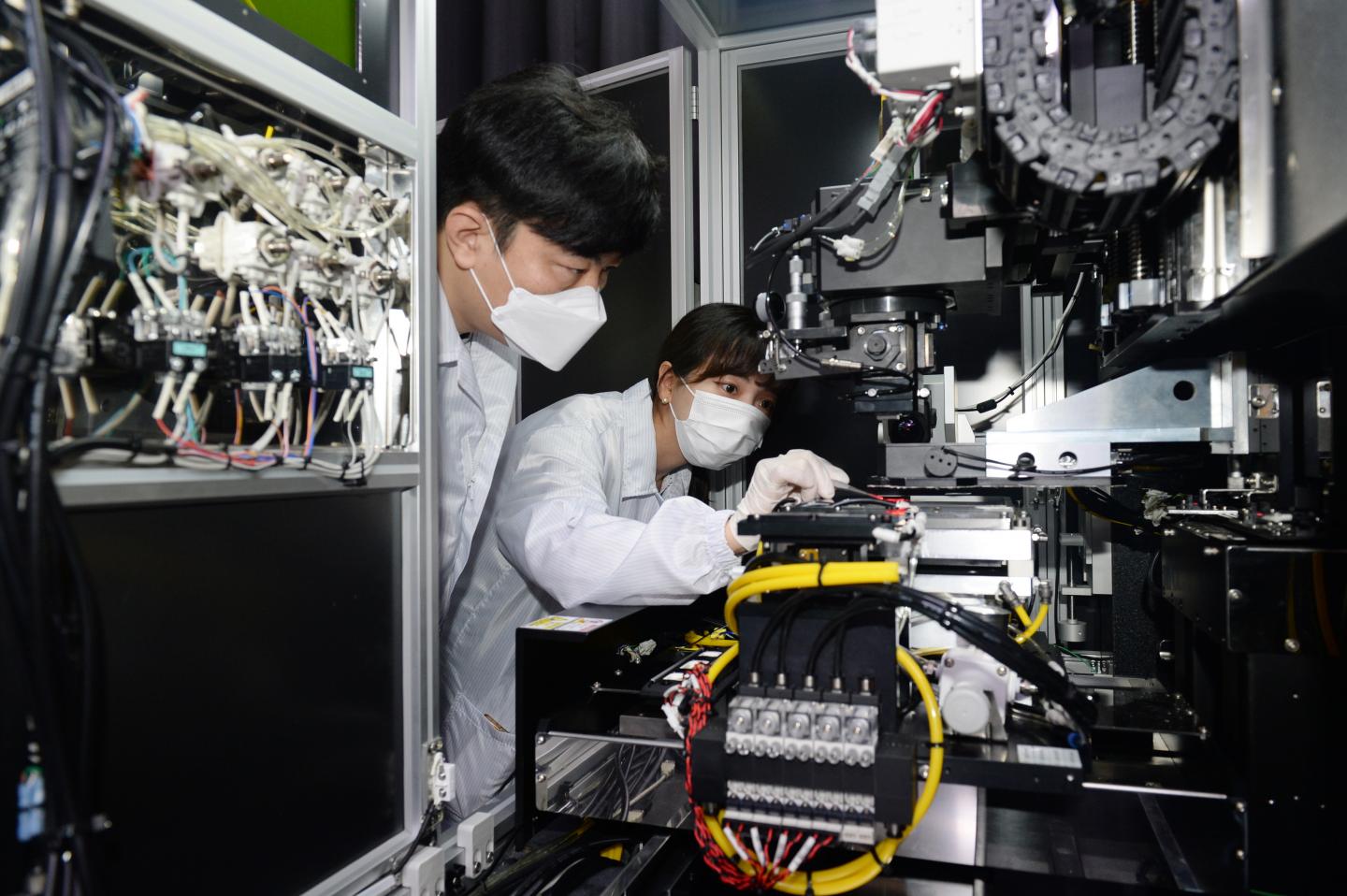 Researchers perform the simultaneous transfer-bonding process for micro-LED production. Source: ETRI
The micro-LED display is the next generation of self-emitting displays. The team created 12 micro-LEDs of 1mm2 size, which provides a more vivid display compared to LED or OLED displays. The new display has high luminous efficiency and could be used in a variety of fields.
Micro-LED displays control RGB elements separately, which allows for crisp and clear screen color and brightness. The inorganic semiconductor in the display can be used for a long time without causing burn-in phenomena.
Typically, these devices are produced through a semiconductor process that then has to be transferred to the display panel. For an 8k TV, 100 million micro-LEDs need to be transferred to the display. This transfer takes a long time and requires bonding and can take a long time because the method is dependent on a sequential process. The materials for micro-LEDs are imported, which means they are expensive.
A new material -- Simultaneous Transfer and Bonding (SITRAB) adhesives -- can be used to combine transfer and bonding into one process. When a homogenized laser is applied to the SITRAB film, micro-LEDs can be attached in seconds. The new materials can be attached with additional micro-LEDs, such as for defective pixel repair, a task which can not be accomplished with available technology.
This method creates a core process of simultaneous transfer and bonding. The key to the new process is applying the homogenized laser to a large area and heating only part of the attached piece to mound micro-LEDs to the display panel substrate.
Materials for the new technique were developed independently, utilizing the material for micro-LEDs and next-generation display tech. High investment costs that used to be required for transfer and bonding equipment are reduced with the new developments. The team believes that it could be further simplified for manufacturing.
A paper on the new technique and material was announced at 2021 SID Display Week.