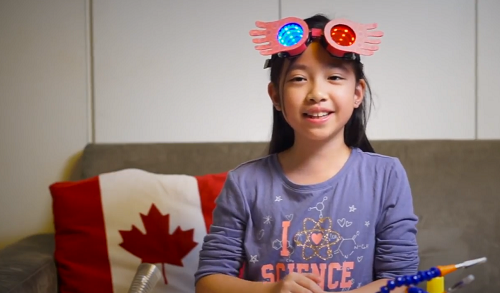 The final Spectre Specs after construction. Source: Purple OranjiFilm and fantasy have been the source of inspiration for a variety of cool developments in tech. "Harry Potter" in particular has been a major source of fascination over the past year for a number of developers because not only is it rich with cool gadgets and technology but it also gives people a chance to live out their dreams.
We have already seen a "Harry Potter" themed pub that launched on Kickstarter using both the internet of things and voice activation to bring magic to life. Researchers at the University of Michigan are also working on their own invisibility cloak, and sorting hats and self-stirring pots are already in development.
Now, a maker, who has a DIY YouTube channel called Purple Oranji, has brought "Harry Potter" character Luna Lovegood's iconic Spectre Specs to life with a DIY project that uses Adafruit Neopixel Goggles as the base and 3D-printed parts and light emitting diodes (LEDs) to finish the project.
The 3D-printed parts include a lens frame, bridge clip and an LED hoop that connect to the Neopixel Goggles. With a few tweaks of how the LEDs performed at which color and some easy soldering, the Spectre Specs were complete.
If you are interested in building your own Spectre Specs, the entire process and 3D-printed files are available for free on Thingverse.