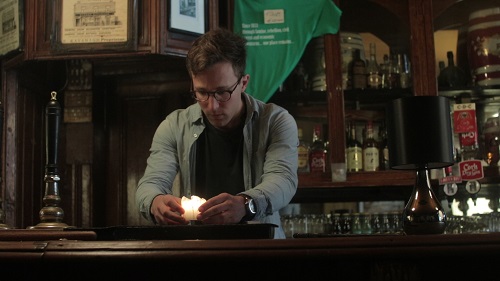 Matthew Cortland uses magnets to simulate magical floating candles. Source: The Cauldron The "Harry Potter" film franchise captured the imagination of millions of people. So much so that a new sport, Quidditch, was created on many college campuses, theme parks have devoted entire sections to rides and lore and numerous locations have integrated certain elements of the film into real life including train stations and castles.
Now, someone wants to create a "Harry Potter" pub, called The Cauldron Wizarding Pub & Inn, using science, technology and the Internet of Things (IoT) to bring magic from the books and movies into an interactive experience.
The pub is the work of Matthew Cortland, a former reading teacher turned tech tinkerer and big "Harry Potter" fan, who wanted to bring a piece of the franchise to life.
The pub will use magnets to create the effect of floating candles, will use wands with touch activation to turn on and off lamps, moving photos that will use IoT cloud computing and more technology that will be implemented as the project moves forward. The Cauldron is using a wiki for people to submit tech ideas and vote on what technology they want to see the pub use.
The pub is also launching a Kickstarter to raise $500,000 for leasing of space for the pub, initial staff, inventory, hackathons and R&D. If all goes according to plan, the pub should open in March of 2018.
The Cauldron Kickstarter is scheduled to begin on June 26. But in the meantime you can check out the progress by visiting: https://thecauldron.io/