British engine manufacturer Rolls-Royce is launching a new "IntelligentEngine" concept at the Singapore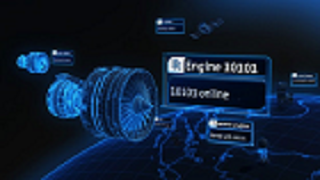 Source: Rolls-RoyceAirshow this week. The initiative is designed to develop intelligent aircraft engines that are safer and more efficient. Such benefits will stem from the engines' ability to communicate with each other and their support networks.
The IntelligentEngine vision recognizes the growing overlap among product, service and digital technology. New engines will be designed and tested in the digital arena, and will be increasingly connected with other engines and customers. These machines are expected to become contextually aware of operating contexts and customer needs, enabling it to respond to the environment around it without human intervention.
By providing continuous two-way communication with the engine and other parts of the service ecosystem, the engine would be able to deal with problems before they become apparent and to learn how to improve performance.