Seemingly every day, the headlines promise that robots are going to take all of our jobs and, so far, that is proving at least half true. Robots are cooking, cleaning, manufacturing and even policing.
As such, the expectation is that robots are poised to take on even more complex tasks: namely car repair and inspection. Sure, robots can build cars, automating all manner of vehicle manufacturing tasks, but why then do we not yet have robots designed exclusively for servicing vehicles?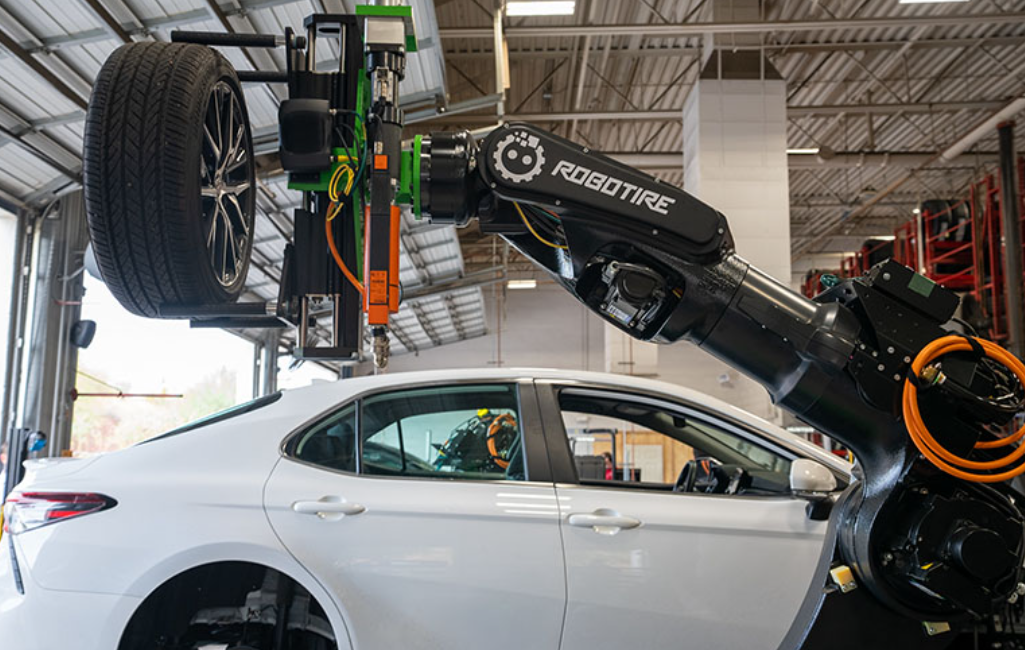 Source: RoboTire
Although the technology is there — and even if it isn't, it soon will be — there is yet to be a "full-service" device dedicated to performing fully automated maintenance and inspection tasks. Consequently, in order to automate maintenance and repair tasks, dealerships and garages would have to purchase multiple systems and robots to perform all of the different tasks that can be carried out by just one auto mechanic, which is not exactly cost-effective.
Also preventing such full service solutions, according to most experts in the field of automation is that the technology for enabling such automation is cost prohibitive when compared with human labor, leading some to suggest that there will never be fully automated auto mechanics.
What does exist, however, are a handful of automated solutions that deal with specific components of automotive service. Follow along with Electronics360 to review some of the robots taking on tasks usually carried out by human auto mechanics.
Tire mounting robots
The task of replacing tires on a vehicle is typically conducted manually by human auto mechanics. However, a system automating this task has been developed by RoboTire. A robot of the same name is reportedly capable of changing all four tires on a vehicle in under 25 minutes, thereby expediting repairs, freeing up auto mechanics for higher value tasks and filling a global shortage of trained technicians.
According to its developers, RoboTire removes, lifts and installs tire and wheel assemblies without human intervention using a combination of machine learning, artificial intelligence (AI) and high definition cameras.
To see the RoboTire in action, watch the accompanying video that appears courtesy of RoboTire.
Paint repair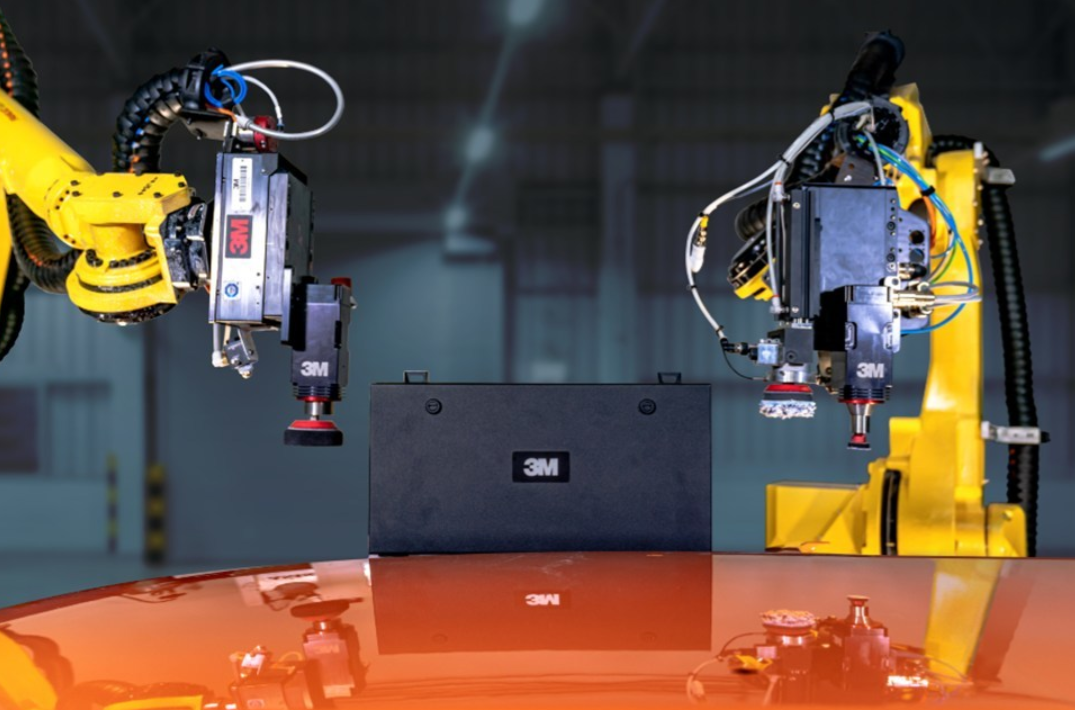 Source: 3M
Thanks to technology designed for the manufacturing space, cars can undergo repairs to damaged finishes in the aftermath of an accident without human intervention. Ford Motor company has teamed up with 3M to automate vehicle paint repair. The 3M™ Finesse-it™ Robotic Paint Repair System automates the painting of car finishes, fixing defects in automobile finishes as identified by an accompanying vision system. Although designed for the automotive manufacturing space, the technology, which also automates sanding and polishing, can be employed in the repair of damaged consumer vehicles.
Engine inspection
Auto mechanics must typically rip apart engines to diagnose and fix issues, which can be both costly and time-consuming. To automate this task while also eliminating the need to disassemble such complex components, auto giant Rolls Royce, in conjunction with the U.K.'s University of Nottingham and a company called Metallisation, has developed a pair of snake robots for fixing engines. Developed under the Intelligent Engine Project, which explores how robotics could potentially pave the way for automated engine maintenance, the pair of snake robots are flexible enough to navigate engines and to perform patch repairs. According to its developers, the pair of robots behave like an endoscope, moving through critical vehicle components to perform maintenance tasks autonomously and without causing additional damage.
Tune ups
Auto giant Audi has developed a telepresence robot for Audi dealership garages to help human auto mechanics perform automotive tune ups. The Audi Robotic Telepresence robots help human auto mechanics repair Audi vehicles.
These robots on wheels feature cameras and a display screen to connect auto mechanics with remote experts in the field of auto repair.
Defect detection
Kitov-CorePlus, a robotic system from fully automated visual inspection solutions company Kitov.ai, autonomously identifies electronics defects in automobiles — ranging from bent pins on connectors and ports, surface defects, coverage defects and missing components to name just a few.
According to its developers, the system offers fully automated smart visual inspection of vehicles on the production line and, potentially one day, at your local garage.
For more information, watch the accompanying video that appears courtesy of Kitov.ai.
For now it would seem that auto mechanics can breathe a sigh of relief. Though robots are capable of so much, it seems it that they will still need to rely on human auto mechanics for their intricate and specialized knowledge of vehicles.
Check back with Electronics360 for more on the topic of automation as well as automobiles and more.