Luxury car maker Aston Martin is joining the flying car market with its Volante Vision Concept vertical take-off and landing (VTOL) aircraft that will be a hybrid-electric vehicle with some autonomous capabilities.
Aston Martin joins Rolls-Royce in the attempt to bring a luxury type of vehicle to the flying car segment. Aston Martin's Volante Vision will have room enough for three adults and is designed for urban and inter-city air travel to provide an alternative to traffic congestion.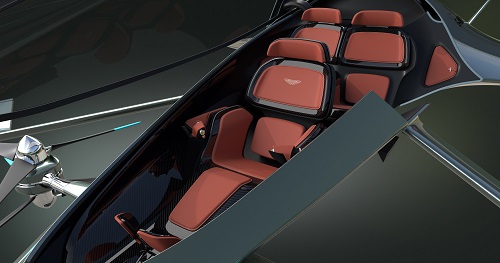 An inside look at the Volante Vision concept with three seats. Source: Aston MartinThe flying car concept was designed in conjunction with Cranfield University, Cranfield Aerospace and Rolls-Royce, with each partner bringing different expertise to the table including electrification, aerospace and autonomous technologies, the company said.
"With the population in urban areas continuing to grow, congestion in towns and cities will become increasingly demanding," said Andy Palmer, president and CEO of Aston Martin. "We need to look at alternative solutions to reduce congestion, cut pollution and improve mobility. Air travel will be a crucial part in the future of transportation, the Volante Vision Concept is the ultimate luxury mobility solution."
Palmer added that flying cars will allow the distance that people commute to work to be extend to farther away because the commute won't be as taxing or as troublesome as sitting in a car for hours.
"Cities will grow, and towns that are today too far away from cities to be commutable will become suburban," he said.