Clinicians are attempting to address an ongoing shortage of donor kidneys by relying on "extended criteria"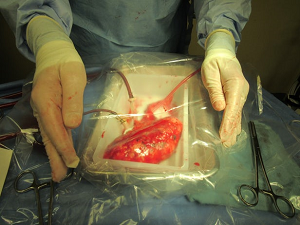 A converted heart-lung bypass machine pumps a warm mixture of blood, nutrients, minerals, amino acids, oxygen, glucose, antibiotics and drugs through the extended criteria kidney. Source: University Health Networkorgans. These are typically from older donors, or those with one or more risk factors such as hypertension, high body mass index, diabetes or death due to stroke. However, these more fragile organs do not fare well under current cold storage preservation methods.
Fortunately, surgeons at Toronto General Hospital, University Health Network, Ontario, Canada, where about 20 percent of all transplanted kidneys are expanded criteria donor kidneys, have devised an alternative. A heart-lung machine was repurposed for use with a warm perfusion technique.
The kidney is not viable after 30 hours in cold preservation, but the new warm preservation technique avoids the damage of cold storage and instead allows the donor organ to improve and repair itself, potentially leading to better patient outcomes.
The modified heart-lung bypass system uses customized tubing sized for the kidney's smaller blood vessels and a preservation solution of blood, nutrients, minerals, amino acids, oxygen, glucose, antibiotics and drugs. The machine was first used to prepare a deceased donor kidney before transplantation into a patient in November 2017. The organ was placed on the device for three hours and 30 minutes at body temperature. Immediately after implantation in the recipient, the donor kidney turned bright red and started to produce urine, all indicators of proper kidney function.
Blood tests performed within 48 hours confirmed that the kidney was functioning normally, and the recipient was able to get up and walk two days after his transplant.