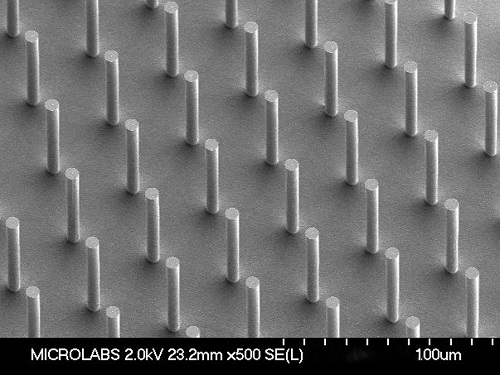 The MEMS devices are being used to create microfluidic channel lines with living human cells. Source: Business Wire
Harvard University is using the microelectromechanical systems (MEMS) devices to create microfluidic devices that mimic the functions of living human organs.
The devices, called organs-on-chips, offer a potential alternative to traditional animal testing as each chip comprises a polymeric membrane that contains hollow channels lined by living human cells. The microfluidic channels carry fluids in a way that accurately mimics various functions of the human body such as lung, intestine, kidney, skin, bone marrow and blood-brain barrier. Mechanical forces can be applied to emulate the physical microenvironments of living organs including breathing motions in the lung and peristalsis-like deformations in the intestine.
Sensera provides molds to manufacture the polymeric membranes that are assembled in the organ-on-chip microfluidic devices. These molds were adapted from Sensera's traditional MEMS process, the company said. The microfluidic devices are ISO 9001 certified and the company said it is working toward ISO 13485 certification to further implement the device in precision medical technology.