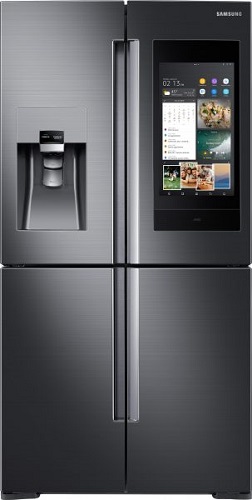 Samsung smart fridge now works with Bixby. Source: SamsungSamsung introduced its Bixby artificial intelligence assistant in the Samsung Galaxy S8 rollout to mixed reviews with some saying it didn't do enough or had a long way to go before it could compete with Siri, Alexa, Cortana and numerous others that have been rolled out.
But Samsung is already expanding Bixby to more of its ecosystem in order to push the technology to more users beyond just the smartphone. The Korean electronics giant announced at CES 2018 that it is the company's vision to connect the assistant in order to make it easier for consumers to control all the things in their internet of things (IoT) lives.
So Samsung has ported Bixby to its SmartThings platform, including the SmartThings App and SmartThings Cloud, to provide information on TV shows being watched, choosing what content to watch and migrating the show playing on the living room TV to the bedroom TV when it is told to switch rooms.
Beyond consumer electronics, Samsung has also brought Bixby to Samsung's line of refrigerators, washers and dryers. Through Bixby, the fridge can keep track of foods inside the appliance as well as keep an eye on expiration dates and offer recipe advice for the food you have in the fridge. Washers and dryers can be automated to run a load and you can receive smartphone notifications when the clothes are ready to be moved to the dyer.
While currently the smart home involves speaking to one specific listening device, Samsung believes it will be harder in the future for just one device to pick up every command from every room. Samsung is experimenting with shrinking the listening device to the size of a thumbnail. Called Project Ambience, the device could be placed on any object in the home, transforming it.