Laundry can be a pain. Whites have to be washed with whites. Darks have to be washed with darks. And then there are delicate items and those that require a bit more power to be cleaned.
Samsung is looking to give modern families more choices in how they wash their clothes, with appliances that include two washers and two dryers in one laundry system. The FlexWash and FlexDry systems allow consumers to wash different types of clothes in each compartment, simultaneously reducing the time it takes to wash clothes in a busy home.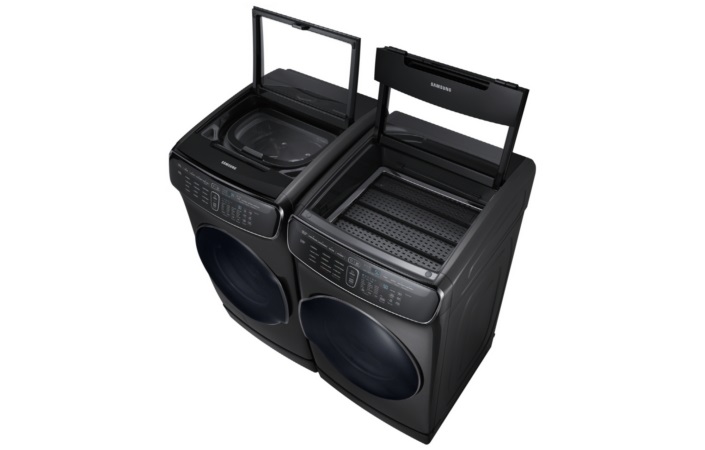 The four-in-one washer and dryer laundry system is IoT-enabled and allows consumers to monitor every cycle through a smartphone application. Source: Samsung The FlexWash system, which will be unveiled at the 2017 Consumer Electronics Show taking place in Las Vegas this week, has a front-loading washing machine with five cubic feet of capacity, and a top-loading machine that adds another cubic foot of capacity, in order to wash smaller loads separately from the main load. Both washers can operate at the same time with different settings. Meanwhile the FlexDry system contains front-loader and top-loader machines—including a delicate rack zone at the top—which can also be operated at different settings at the same time.
Samsung conducted research on U.S. consumer laundry habits and found that 87% of consumers run two or more back-to-back washes, and they generally sort their laundry into light and dark loads. The company then designed the washer and dryer to create a faster way to tackle one of life's annoying everyday chores.
Both systems are Internet of Things (IoT)-enabled. The smart features can be controlled with a smartphone using the Samsung smart home application, which allows consumers to start, stop and monitor every cycle for both machines.