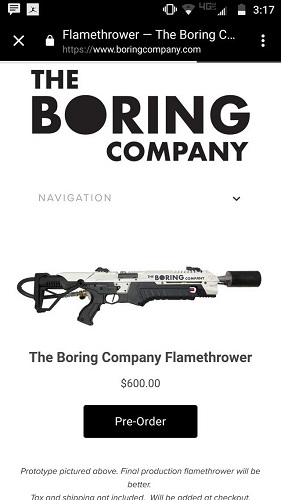 The flamethrower found on the website. Source: The Boring Company
Twitter is an interesting place. Filled with bots and trolls as well as numerous executives, celebrities and people of influence. But sorting out what is true or even reasonably true and what is just a joke can be challenging.
Take Elon Musk's The Boring Company flamethrower. Apparently back in December, Musk, who is the CEO of The Boring Company (as well as Tesla Motors and SpaceX), tweeted that if they sold enough of the new The Boring Company hats, he would introduce a flamethrower. Later, Musk tweeted again that the company had indeed sold enough hats and a flamethrower was coming "soon."
Fast forward to this week where some crafty individual found an image of the actual flamethrower on The Boring Company's website before it was taken down soon after. The image portrays a very flamethrower-looking device that is priced at $600. Below the image and a pre-order button is text that states this is just a prototype and the final production flamethrower would be better.
Is it real? Is it just Musk trolling everyone after tweeting out something silly? We know that Musk is not immune to poking fun at himself and his companies, previously releasing the best fails video of SpaceX.
But if you could own your own working flamethrower, would you?