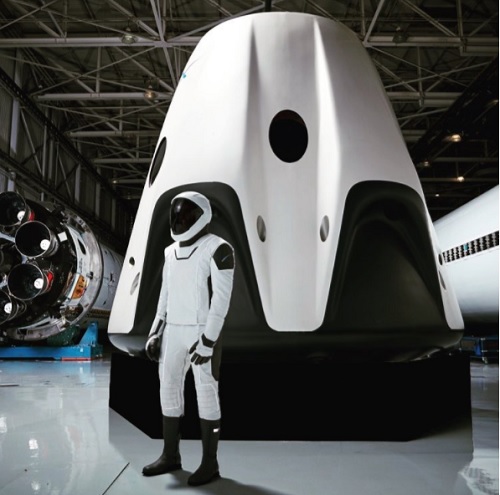 The new SpaceX spacesuit outside the Crew Dragon module. Source: SpaceXWith NASA on the verge of running out of usable spacesuits, one way to meet the challenges of future space travel may reside in private industry.
That's where Elon Musk's SpaceX is taking shape, recently revealing the design of the SpaceX spacesuit for the first time.
Now, Musk is providing a better look at the spacesuits, which appear to be a more slim design and less bulky than traditional spacesuits of the past. The suits are supposedly for in-vehicle use, meaning they will protect people within the interior of the spacecraft but won't work (presumably) in the vacuum of space.
The new image shows the black and white spacesuit outside of SpaceX's Crew Dragon capsule, a spacecraft designed to carry people to space, specifically the International Space Station (ISS). The Crew Dragon module has four windows where passengers can take in views of the Earth and the Solar System and is made of carbon fiber and Alcantara cloth. The spacecraft also has an Environmental Control and Life Support System (ECLSS) for safety and an emergency escape system.
When Musk revealed the first image of the spacesuit, he said that the suit is not just a prototype but it actually works.
SpaceX and Musk have been pioneers in developing private space systems that will be used to carry passengers and cargo back and forth to Earth. Musk's long-standing plan is to get humans to Mars. He delivered an entire manifesto on how to do it back in June when he detailed the spacecraft, rockets, fuel, architecture and more needed to create a city on the red plant.
SpaceX also recently became the first private company to re-fly an orbital spacecraft when it sent its Dragon module to the ISS for a resupply mission.