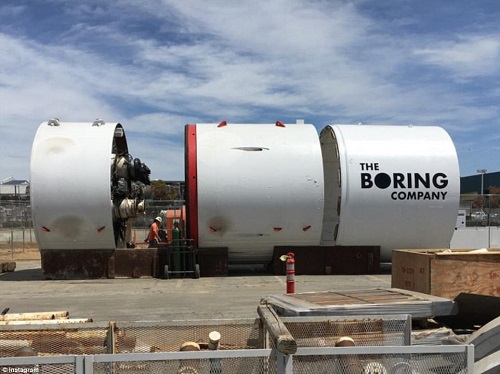 One of The Boring Company's tunnel diggers. Source: The Boring CompanyThe first hyperloop tunnel from SpaceX and The Boring Company will be built on the East Coast in a corridor that will stretch from Washington DC to Baltimore to Philadelphia and New York.
The Governor of Maryland, Larry Hogan, announced that the state's Department of Transportation has given approval to SpaceX to build the high-speed connection that will allow travelers to get to the destinations in a matter of minutes. The hyperloop would take only 29 minutes to get from Washington to New York.
The deal will allow The Boring Company to dig under state roads, starting near Fort Meade. In total, 10 miles will be dug under the state-owned portion of Baltimore-Washington Parkway.
Currently, The Boring Company's first tunnel making machine is digging an underground system to move cars and passenger goods near SpaceX's headquarters in Hawthorne, Calif. However, Elon Musk, CEO of both SpaceX and The Boring Company (as well as CEO of automotive electric car company Tesla Motors), says a second boring machine is almost ready and presumably will be used for the East Coast corridor.