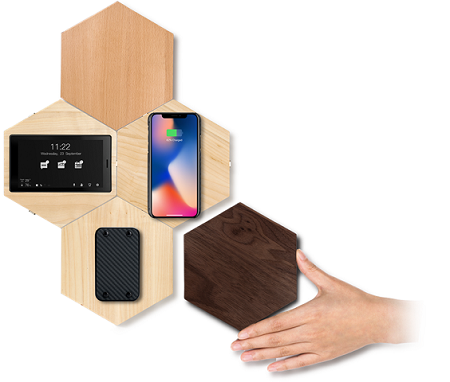 Source: PITAKA
Once upon a time, tying a string around one's finger was thought to be an effective reminder. But for those of us who would forget our head if it wasn't attached, there's only so much string in the world, and we only have so many fingers.
MagHive, a smart reminder system making its debut at CES 2018, aims to transcend those limitations. By making any personal item trackable, it has the ability to remind users not to leave home without their keys, phones, wallets, purses, earbuds — you name it. The system is also compatible with Amazon Echo Dot and Google Home, and can be used as a personal assistant with voice control. It can even remind you to grab your umbrella if the forecast calls for rain.
Developed by PITAKA, the MagHive system consists of a mobile app for iOS and Android, along with a magnetic wireless-charging base station that uses near-field communication/radio-frequency identification (NFC/RFID) technology for motion detection. The base station also employs fobs called MagTags that can pair to any personal item, and features a fully-modular hexagonal design.
The MagHive is currently in manufacturing sample stage, and will be available during Q1 2018 through Kickstarter. CES 2018 attendees can get a preview of the MagHive in action at the Sands Hall no. 40274.