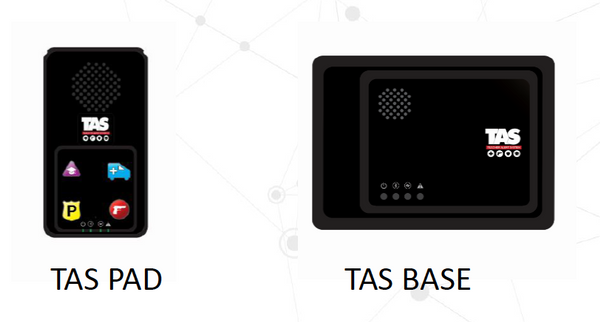 The TAS button (left) would be worn around the teacher's neck. The button reports to the base (right). Source: Teacher Alert System
School safety has become a major concern in the United States. Laura Gasparis Vonfrolio, RN, Ph.D., Traci Cangiano and Patricia Carrasco developed an integrated, modular system consisting of a base station and a personal alert device, called the Teacher Alert System.
The Teacher Alert System is a wireless remote pad that can be worn around the neck. It provides teachers with a direct connection to the police, fire, ambulance and school principal. In an emergency, the device uses Bluetooth to connect to the base. The base is connected to Wi-Fi, cellular or satellite for a constant connection. There is an "active shooter" button that, when pressed, will alert all teachers and emergency responders.
The base station and messaging router contains an IoT solution that can be tailored, with an incoming wireless link to the pad and an outgoing link to connect via the cloud with first responders, school administrators and school security. The base station can be configured with multiple wireless network technologies.
The current version includes Wi-Fi-connected IoT technology for module control and internet connection to the cloud and backend and first responders. It also has a reliable, short-range RF connection for a link with the pad. Both the pad and base are battery powered.
The wearable measures at 4 in. x 2 in. x 0.844 in. and communicates via Bluetooth directly to the base station and messaging router. The current TAS pad has four buttons: school, police/fire, ambulance and active shooter. These buttons can be reconfigured to meet the needs of the school.
Pressing a button on the pad transmits a specific alert code to the base station that then relays the information via the cloud to the responder. The system allows one- and two-way voice communication between the pad and the responder along with a special mute button. The system can transmit GPS data and optional camera streams if the school adds those features. The Teacher Alert System Base unit is 4 in. x 3 in. x 1.25 in. The base station should be located within the local RF range of the pad.
The second module has a cellular modem available for locations without Wi-Fi. This version has a cloud and backend connection using available cellular networks. The third module has a satellite modem for the isolated areas where cell service is absent or unreliable.
To learn more, visit the Teacher Alert System.