Businesses that believe they are exempt from the U.S. conflict minerals declaration requirement should take a good look at their customer base: companies that don't have to report to the U.S. Securities and Exchange Commission (SEC) likely have supply chain partners that do.
"There is no legal obligation for [privately-held companies or businesses not registered with the SEC] to report to the SEC, but if your top customer says 'we need [a conflict minerals declaration],' we suspect they will fall in line," said Paul Hagen, Principal, Beveridge & Diamond, P.C., a law firm specializing in compliance regulations, during the Electronics360 April 9 Webinar on complying with the new conflict minerals reporting requirements.
The webinar focused on the steps companies need to take to satisfy the SEC's reporting requirements on the use of four minerals sourced from the war-torn Democratic Republic of Congo: tin, tantalum, tungsten and gold. The SEC rules, which were mandated by the Dodd-Frank Wall Street Reform and Consumer Protection Act, took effect in August, 2012, with initial reporting required by May, 2014. For an in-depth examination of this complex issue read the Electronics360 article published in February.
Electronics manufacturers source products and materials from all over the globe, so the likelihood that one or more supply-chain partner will require information regarding the sourcing of the four conflict minerals is high. Interestingly, about one third of the managers on the live Webinar admitted they have not begun the compliance process yet: only 7.5 percent of the OEMs, EMS and components companies who answered the polling question said they were "on track" to be in compliance with the May, 2014, reporting deadline.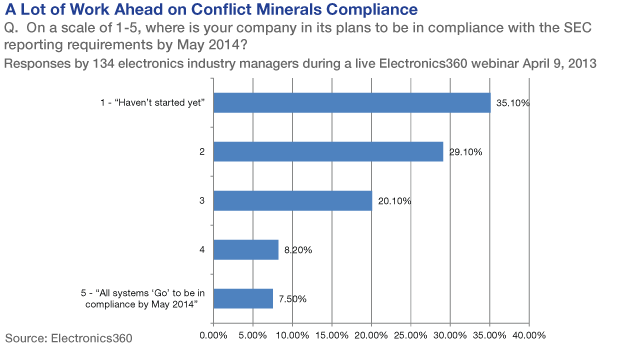 Complying with the SEC rules, which is time-consuming and costly, may not be as complicated as analysts and companies had originally projected, however. One of the key industries involved in processing conflict minerals —smelters— are getting involved in and supporting compliance efforts, said Scott Wilson, content solution strategist at IHS. "Smelters are a good control point and this simplifies how far back in the supply chain companies have to go."
Nevertheless, both Hagen and Wilson advise companies across the electronics supply chain to be prepared to provide compliance information by next May. Even if a business does not use conflict minerals in its products, it has to demonstrate it has conducted due diligence in making that determination. There is existing guidance to assist in the process, Wilson said. These include guidelines already in use issued by the Organization for Economic Cooperation and Development that outline the key aspects of compliance.
Wilson suggested companies focus internally on four key areas:
· Management systems: most MRP and ERP systems have the capability to track materials but may not be programmed to do so. Determine if your system needs additional capability.
· Identify and assess risk: prioritize the suppliers that are most likely to use or source conflict minerals.
· Respond to the risk: If suppliers don't share information, consider alternative sources.
· Audit smelters: an Electronics Industry Citizenship Coalition (EICC) standard provides the necessary guidance and content.
Hagen noted that although the conflict minerals provision of Dodd-Frank has been challenged in court, it is unlikely the rule will be nullified. Most companies are proceeding with their compliance efforts, which is the prudent course of action, he said.
Hagen also noted that both the European Union and Canada are contemplating measures similar to the Dodd-Frank Conflict Minerals regulations. The EU is currently reviewing comments and expects to make recommendations: Hagen expects the process will take up to three years. "The EU is very deliberate in its assessments," he said. Canada currently has proposed US-like legislation pending approval.
It is also very possible, Hagen said, that subsequent legislation will have stricter provisions than Dodd-Frank. "We may see more of a deep-dive from other geographies," he said.