Do the words "conflict minerals," "Democratic Republic of the Congo" and "Section 1502 of the 2010 Dodd-Frank Wall Street Reform and Consumer Protection Act" make you shudder?
If so, you're not alone. Many executives in the electronics industry have the same response these days. It's no wonder: This is the year publicly-traded companies in the U.S. must track and report details about the conflict minerals in their products, and the dilemma of how exactly to do that is just starting to sink in.
Marking one of the most significant pieces of sustainability-related regulations in recent times and having broad global supply chain implications, the Dodd-Frank legislation, which paved the way for last summer's final ruling from the Securities and Exchange Commission (SEC), requires SEC-registered companies to disclose their use of conflict minerals originating from the Democratic Republic of the Congo (DRC) and neighboring countries.
Specifically, companies must declare their use of the "3Ts and G," which are found in the vast majority of electronic products: Columbite-tantalite, used to make tantalum; cassiterite, used to make tin; wolframite, used to produce tungsten; and gold, used in components. Under the SEC ruling, companies must state if those minerals are "necessary to the functionality or production of a product." (See Sidebar 1 below: "Conflict Minerals Reporting Requirements: 5 Things to do Now")
Affected companies are required to file their first annual disclosure report to the SEC, covering the 2013 calendar year by May 31, 2014.
"This is the tip of the iceberg, and there is still so much more to come," said Bhawnesh Mathur, chief executive officer at electronic manufacturing services company Epic Technologies, a contract manufacturer with operations in the U.S., Romania and Mexico. "It has all the sensitivity of the humanitarian issues affecting people in Africa. The objective here is to help protect people."
"There is also another objective here, and that is to meet the law," Mathur added. "I think this is many times bigger than RoHS and other environmental-related regulations we've seen. It's a huge issue. It's a social issue. It's a political issue. It's a humanitarian issue. It's also an end-to-end supply chain issue, all the way from mines to smelters to component companies to distributors to EMS companies to OEMs. It links the entire supply chain. Every node in the supply chain is going to have to take a leadership position on this."
On paper, the regulation sounds compelling from a social responsibility point of view. The mandate stems from a well-intentioned goal of curbing – and ideally preventing – the flow of mining money into the hands of violent, armed militia committing atrocities in the resource-rich central African country. News of these abuses have been widely reported in the media and by international organizations.
The rationale behind the Dodd-Frank legislation is that if companies implement supply chain-related due diligence and traceability measures and can determine that the minerals they use come from mines and smelters not associated with rebel trading activities, then the armed militias stand less of a chance of getting funds from smuggled ores or mines operated with strong-arm tactics.
The DRC plays a significant role in the global production of cobalt, copper, diamond, tantalum and tin, notes the United States Geological Survey (USGS). In 2010, the most recent year numbers are available, the country's share of global production of tantalum totaled 14 percent of the world market, and tin accounted for about 3 percent. Some sources estimate that the country's tungsten and gold production range from less than 1 percent to about 3 percent of the world's market.
The DRC's mining and mineral processing sector accounted for about 13.4 percent of its gross domestic product in 2009, the latest year for which data is available. Nearly 450,000 artisanal miners were thought to be employed in eastern Congo in 2010, with most of the miners producing gold, niobium (columbium), tantalum, tin and tungsten, the USGS reports. The country's mineral wealth may be valued as high as $24 trillion, according to IHS.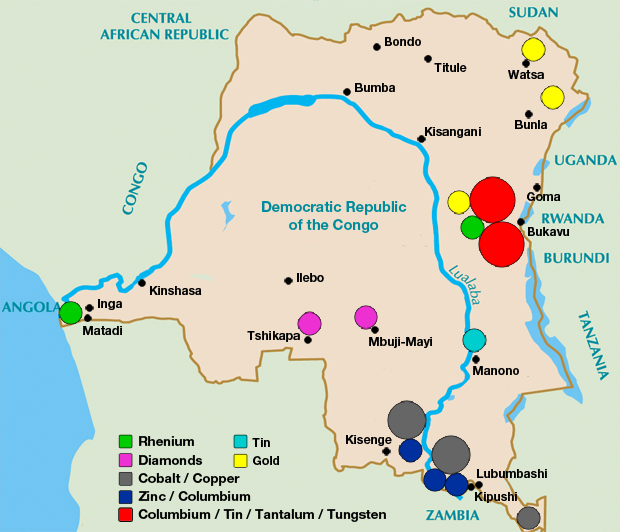 In reality, though, the big problems with the Dodd-Frank and SEC regulations come when you strip away the good intentions and look at the complexity involved in compliance. This is where the electronics industry is hitting most of its snags. And despite a sometimes-voiced solution involving a de facto embargo of sourcing from the region, the DRC and the minerals coming from the area will be hard to ignore for the long term. Imagine, for instance, how categorizing products as DRC-free (not coming from the DRC at all) or DRC-conflict-free (as prescribed by law) could influence near-term strategic sourcing plans, preferred supplier status and inventory-carrying costs?
More important, the impact of the conflict minerals' reporting requirements go much deeper than the RoHS, REACH and WEEE environmental laws the industry has had to deal with in recent memory, according to industry executives. While those green regulations provide some much-needed lessons that can be applied to conflict minerals monitoring, such as information gathering and data management practices, there is significant work to be done across the supply chain from mining operations all the way up to the OEMs selling good to the consumer. Indeed, the sheer number of companies involved in the minerals supply chain and how many transactions have to be tracked have executives worried, or worse.
"I would characterize it as panic out there right now," said Scott Wilson, solution strategist for supply chain products and services at IHS. "People are very concerned about getting their policies together and being able to execute on this"
"IHS deals with a lot of very large companies, and when they look at their supply chains, they are talking about [the number of] suppliers in the thousands, tens of thousands and even over a hundred thousand. People are still figuring out what it means to them, and that's where there is uncertainty," Wilson said.
Where are we today?
IHS Inc. estimates that, as of last October, only 11 percent of electronics manufacturers affected by the regulations have produced the data, declarations or documentation needed to help fulfill the requirements of detailing the presence of such minerals in their supply chains. That number may have inched up in the last few months, but IHS analysts believe that number is still low considering 2013 is the kick-off review year.
An estimated 6,000 companies are likely to be directly affected by the SEC requirement, according to sources. However, a 2011 study by researchers at Tulane University suggests that 12 million companies throughout the supply chain could be impacted in one way or another.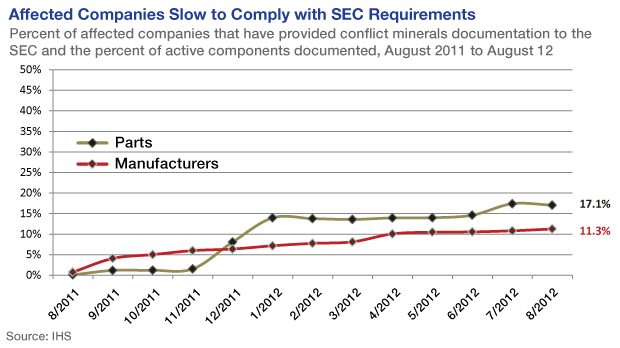 A major concern by OEMs is that the conflict minerals information may not exist in most companies' databases yet.
"On the surface, it's 'Oh, no problem. Just go get this information from your suppliers. Ask them if they will give you this information,'" Wilson said. "What people are finding out - and this comes as no surprise to people in the industry who have already worked on things like RoHS and REACH compliance – the suppliers don't always have that information."
The situation is complicated by other inherent challenges, including the relatively short period of time between when final requirements were approved and the reporting date, and the fact so many high-tech products contain these minerals. For instance, 15 cents worth of tantalum is found in every smartphone, according to IHS calculations. (See chart.)
"There are only about 650 days between the actual issuance of the law when the SEC gave its final ruling in August 2012 up until the time companies have to file and be compliant in the spring of 2014," said Gene Long, vice president of supply chain consulting at IHS Supply Chain Solutions. "It sounds like a lot of time. But, I've been working in supply chain operations for 45 years, and this is not a lot of time. Getting operations alignment and deciding how this will be done will be the biggest challenge."
Despite the enormous compliance task ahead, comfort may be taken from the typical pattern of behavior that emerges when the electronics industry must refashion its practices and processes around new legislation. As witnessed with other laws, namely the European Union's RoHS, REACH, WEEE and RoHS Recast, the fact that the industry is all over the place with its conflict minerals strategies is to be expected. There is the standard bell curve forming with leaders/innovators, early adopters, early majority, late majority and laggards falling into different parts of the adoption cycle; the trend is likely to continue to play out this year and next year, according to Rory King, director of supply chain product marketing at IHS.
"The bottom line is that it's a regulation today, and companies have to do it. But, this is common in the industry; people will often wait and ask 'Is this going to be enforced? How much will it be enforced? Am I going to be penalized?'" said King. "This is how companies behave and react. There will be companies that will take the lead and comply because they see the supply-chain or social benefits. But, there will always be laggards, too. You can learn a lot from how companies dealt with past regulations, and generally companies are getting smarter in how they respond."
Electronic industry associations are normally at the forefront of this curve, being the collective voice for member companies and providing best practices guidelines and training. The Electronic Components Industry Association (ECIA) and joint efforts by Electronic Industry Citizenship Coalition (EICC) and Global e-Sustainability Initiative (GeSI) are a few that have initiatives to educate their members on conflict minerals compliance.
Some of the work the industry associations are doing is noteworthy, particularly in the area of developing a common industry vernacular around conflict minerals and working within the supply chain to ensure "clean" smelter operations.
ECIA, for example, has created sub-teams focused on the metal supply chains that involve traders, miners and smelters. The association is working with trade associations in other industries to learn how they are dealing with similar traceability challenges, and is providing support for on-the-ground traceability mechanisms, including the ITRI Tin Supply Chain Initiative (iTSCI).
Headquartered in Hertfordshire, U.K., the iTRI is a joint-industry initiative that helps mining companies, international traders and smelters put in place processes and structures that conform with the OECD Due Diligence Guidance (DDG). It also provides mineral chain of custody information (traceability) and helps companies subject to the U.S. SEC requirements with reporting their due diligence efforts.
In addition to holding workshops, educating member companies and making the conferences proceedings available online, IPC is developing standards to better define due diligence for conflict minerals reporting and to support how conflict minerals data can be electronically exchanged, said Fern Abrams, IPC director of government relations and environmental policy.
"The legislation is well-intended, but it raises complicated issues. And, there is no playbook yet," Abrams said. "There are some industry tools out there, but they are still in their infancy. The biggest thing now is for the industry to come together and develop common tools and define a common language."
Industry watchers also frequently cited the EICC-GeSI Conflict Free Smelter Assessment Program as another good starting point. Although requests for interviews with EICC and GeSI executives were not answered, the website states that the CFS Assessment Program, which provides a template and dashboard to help with disclosure and communication of smelter-related supply chain information, is a "voluntary program in which an independent third-party evaluates smelter and refiner procurement activities and determines if the smelter or refiner demonstrated that all the materials they processed originated from conflict-free sources. The program aims to enable companies to source conflict-free minerals. Companies that want to source responsibly will be able to use the results of the smelter assessment in their own purchasing practices."
A number of OEMs – including Philips, Motorola, Cisco and IBM – mention on their websites the importance of addressing mine and smelter issues as part of their due diligence monitoring and are recommending that their suppliers work with smelters deemed conflict-free. And electronics distributors, such as Avnet, provide customers with information about their policies regarding conflict minerals.
While certifying smelters is important, and some of the "bag and tag" practices being implemented at the mine and smelter level have seemingly led to decreases in conflict minerals being smuggled over borders and through the supply chain, it will take time for companies to say their products are officially DRC-conflict-free. Philips, for instance, on its website states, "As it will take around seven months for the sourced material to run through the supply chain (mine, smelter, solder manufacturer, Philips factory), the first end-user products containing conflict-free tin are expected to appear on the market in the summer of 2013."
Kemet's competitive advantage
Other companies, like capacitor maker Kemet Corp., which identifies itself as one of the world's largest users of tantalum, has taken a leadership position in addressing conflict minerals further than many other companies. Its DRC-conflict-free program, called the Partnership for Social and Economic Sustainability Conflict-Free Tantulum Sourcing Initiative, focuses on creating a closed-pipe, conflict-free, vertically integrated tantalum supply chain. (See Sidebar 2: Kemet Addresses Conflict Minerals Head On"
Daniel Persico, Kemet's senior vice president for special projects, said that while the steps the company is taking allow Kemet to supply conflict-free products, the broader impact creates a competitive advantage for Kemet and brings greater stability to tantalum commodity pricing.
"We saw a confluence of opportunities," Perisco said, noting that the company is involved with the EICC-GeSi CFS program. Kemet reached "tantalum fatigue" a few years ago as it responded to huge pricing swings with one of its core raw materials as a result of supply disruptions in the DRC and elsewhere. "We started to look for mining partners and wanted to buy output rights. We found a partner, and saw there were a whole host of issues we could help solve together. So we took the opportunity to start sourcing from the DRC."
Kemet's approach drew the industry's attention because it shunned the easy quick fix in favor of pursing a systemic solution.
There are good reasons for the decision. Unlike previous environmental laws where companies were fined heavily if their products contained banned materials like lead, the conflict minerals regulation states companies will not be penalized directly by the SEC if they use conflict minerals in their products. Instead, non-compliant companies will face pressure from consumers and investors for their bad behavior, including divestiture.
"The reason for the regulation was that there was so much social pressure behind it for companies to do the right thing," King said. "The people who inspired this regulation were also responding to social pressure and saying we need to do something. Therefore, [they said] we're not going to penalize companies for including conflict minerals, but we're going to force them to publicly declare it, and let the court of public opinion decide if they still want to buy the products."
That court of opinion includes procurement and supply chain managers at OEMs who control their companies' approved vendor lists (AVLs). OEMs are under greater consumer pressure than other parts of the supply chain. If a supplier is not in compliance with the regulation they will bump them from the AVL, especially for commodity products such as capacitors.
"Some of your customers may go elsewhere, which results in a loss of sales," said Barney Martin, vice president of industry practices at the ECIA.
"A customer may call and say, 'If you can't tell me the status of these minerals, I'm going to call your competitor and ask them if they can tell me.' Believe me, all the companies that know about this – all the component manufacturers, at least – will know the answers to those questions when the customer calls, and they are working hard now to get that information."
Certainly, too, companies that don't file their conflict minerals report or consistently file inaccurate reports or reports that fall short of the requirements will be subject to "normal" SEC penalties, which if egregious enough could lead to the delisting of public companies.
Does that imply private companies have an advantage? After all, the burden of meeting the track-and-report rules falls to companies traded publicly in the U.S., meaning private companies or organizations not traded on a U.S. stock exchange are not subject to these requirements.
The answer is no, they don't have an advantage. Many industry insiders believe that industry peer pressure will push both public and private companies throughout the supply chain to report their use of conflict-free minerals, several industry watchers said.
One unintended consequence of the SEC requirement is increased instability in the pricing and availability of conflict minerals such as gold and tantalum. That's because some supply chain partners may want products that are completely DRC-free, not just DRC-conflict-free. This kind of de facto embargo on any DRC minerals may cause inventory challenges if suppliers have to carry multiple sources of products, several industry executives noted.
Additionally, given the volatile nature of commodities and mineral pricing – and the instability of many resource-rich countries that produce these materials – companies may want to prepare for higher levels of near-term uncertainty, King said. For instance, how will companies respond and plan their gold-buying strategies if problems in gold-producing countries are exacerbated simultaneously, as in tensions in Mali escalate at the same time rebel fighting flares up in the DRC and floods hit Australia, King added.
Despite the risks and the challenges of compliance, there's one overriding reasons why companies like Kemet are taking the lead in compliance: it offers greater visibility deeper into the extended supply chain.
Companies that move toward "full disclosure" supply chains and collect a complete snapshot of all materials used in their products will have both greater flexibility and responsiveness, said King.
With a clear view into the source of their materials, companies would have a better understanding of what influences price and availability. They would be able to react faster than their competitors to market changes. For instance, they would have better visibility into knowing when gold prices were rising and would have the flexibility to change from gold to cooper, King noted.
Such deep visibility could result in significant cost saving. And social change.
SIdebar 1
Conflict Minerals Reporting Requirements: 5 Things to do Now
There are a few things component manufacturers and their customers can do right now to get a handle on the U.S. conflict minerals reporting requirements that were announced by the Securities and Exchange Commission six months ago. Here are five areas to focus on gleaned from interviews with IHS analysts, executives and industry associations and from the Organization for Economic Co-operation and Development (OECD). For more in-depth tips, read the OECD report, "Due Diligence Guidance for Responsible Supply Chains of Minerals from Conflict-Affected and High-Risk Areas."
1. Assess what you have in-house. What kind of component and product data do you already have and where does it reside? What data is missing, and which department will be responsible for collecting it? Determine what systems and processes are needed to meet the SEC's due diligence requirements. Discuss with your supply chain partners to learn about the minerals their products contain.
2. Understand your risks: Identify where the risks are in the supply chain from suppliers that are or may be using mines and smelting companies that contain conflict minerals. Map out how the minerals supply chain and chain of custody works. Review all standards and existing legal documents relevant to the reporting of conflict minerals.
3. Develop a conflict minerals strategy. Define how your company will respond to the supply chain risks associated with conflict minerals, and which senior manager and department will oversee and execute the strategy. Set a plan for monitoring, tracking and reporting conflict minerals and their related risks.
4. Set auditing practices. The SEC requires an independent private-sector audit of the company's conflict minerals report. Create a plan for how your company will manage the audit process and prepare the required documentation.
5. Create consistent reporting practices to make annual filings easier. Although there is a "DRC Conflict Undeterminable" filing status which allows companies more time to gather information and determine the origin of products (a two-year period for bigger reporting companies and four-year period for smaller reporting companies), there appears to be no other exemptions to the regulation as it applies today to SEC-registered companies; therefore, building a repeatable process will be important for many companies. Determine how your company will manage the annual reporting requirements and how the process will be incorporated into other filing requirements.
- Jennifer Baljko
Sidebar 2
Kemet Addresses Conflict Minerals Head On
While most companies affected by the U.S. Securities and Exchange Commission's reporting requirements for conflict minerals are just now coming to terms with their legal responsibilities, Kemet Corp. has turned what could have easily been a panic situation into a strategic advantage.
Indeed, the component maker is already selling certified conflict-free products using minerals from the Democratic Republic of Congo (DRC), which is more than many electronics companies can claim.
A quick glance at the company's conflict minerals webpage and a read through its e-book reveals the extent of Kemet's efforts to publicly address the social and humanitarian issues impacting the DRC. More interestingly for the electronics sector is the work the company has done in the last two years to ensure that its operations and supply chain can respond not just to the social pressure of the legislation, but also to market forces.
As mentioned in the accompanying story about conflict minerals, several circumstances came together over the last few years that allowed Kemet to leapfrog competitors in responding to Section 1502 of the 2010 Dodd-Frank Wall Street Reform and Consumer Protection Act and the subsequent SEC rules.
Considered by many to be one of the industry's first comprehensive, sustainable sourcing model for tantalum ore from the DRC, Kemet's Partnership for Social and Economic Sustainability program has created a closed-pipe, vertically-integrated, conflict-free tantalum supply chain. It starts with tantalum ore sourced in the DRC's Katanga Province, which then goes through processing, smelting and powder production, and ends up as DRC-conflict-free capacitors delivered to customers.
Details of how these elements came together are spelled out in the e-book cited above and in various company documents, but the short version centers around Kemet's long-term agreements with three companies. First, it negotiated to source tantalum ore from the conflict-free Kisengo mine site in Katanga, owned by DRC-based Mining Mineral Resources (MMR). Next, Kemet acquired the sole output rights of Tantalite Resources in Johannesburg, South Africa, a facility that turns the tantalum ore from the MMR mine into an intermediary product called K-Salt. Third, Kemet purchased Niotan Inc., a tantalum powder manufacturing facility headquartered in Carson City, Nev., now called Kemet Blue Powder. The K-Salt from South Africa is shipped to the Kemet Blue Powder tantalum capacitor production site in Matamoros, Mexico, and final products are shipped from there to customers.
In parallel with developing the mechanics for its DRC-conflict-free supply chain, Kemet incorporated a community-based project to create a sustainable environment for the miners and their families. Over the past two years, Kemet has invested $1.5 million in the construction of schools, health clinics and infrastructure located around the MMR mine site.
"We were looking at a situation where people were shunning central Africa and the DRC," said Daniel Persico, Kemet's vice president, special projects. While there are other tantalum-supplying countries like Australia, Brazil, China and Canada, the DRC's high-grade, close-to-the-surface, easy-to-mine tantalum ore is hard to find in other places. "Most of the miners right now are artisanal, and while we intend to help mechanize the mine, we will not replace any of the artisanal miners. They will all have a job. The goal of our program is to increase the miners' security and increase the quality of their life long term."
"We saw a social opportunity and an economic opportunity come together," Persico said. "We had many people tell us we were crazy and we shouldn't get involved and that it was fraught with risk. But we made commitments on the supply side, and our CEO [Per Loof] flew out there to take look at the site. He came back and said this was something we could do and it would be a great opportunity on many levels. He said we could solve a lot of problems if we approached it correctly."
Kemet's name regularly comes up as one of the electronics component companies that is running ahead of the pack on the conflict minerals issue. Industry watchers acknowledged that while it may not be possible or financially viable for other companies or suppliers to adopt similar progressive strategies in the near future, many mentioned that there are supply-chain opportunities like this available to all companies, if they look beyond the letter of the law.
Curing tantalum fatigue
For Kemet, the legislation presented an opportunity to "lean out its supply chain" and gain control over the dramatic fluctuations in commodity pricing, particularly for tantalum, an essential mineral for capacitors, said Persico. "There really is no need for the ups and downs in the price of tantalum because it's largely based on speculation," Persico said.
Indeed, pricing volatility is the "new normal" that companies along the supply chain have to consider, according to IHS. Commodity sector prices exploded between 2002 and 2011, with an average annual growth rate of 15 percent, according to the company. IHS contends that there is a strong correlation between commodity prices, volatility and the stability of underlying sources of supply.
In 2011, tantalum prices jumped from $40 a pound to $150 a pound. A decade earlier, they skyrocketed to $300 a pound. In addition to the speculative swings, some countries such as China charge high duties for processing raw minerals and shipping intermediary products overseas.
"We have to pass those prices down the supply chain, and that causes what we call 'tantalum fatigue'," said Persico. "Every time this happens, a few more customers say 'we'll find an alternate source and we may not come back.' This is half of our business. It's the bedrock for our company right now. We had to do something."
And it's not just happening with tantalum. Commodity and mineral prices for everything from gold to copper to silver to oil are becoming major considerations for many electronics component makers, and are affecting the sourcing and purchasing strategies of their OEM customers.
Even with this program in place and the relationship with the mine and processing facilities, Kemet has to source from other places to mitigate overall risk, serve customers who do not want products that contain any minerals from DRC and to meet its own growing demand, according to Persico. Even for a company like Kemet who is far ahead of the curve, the conflict minerals issue is introducing another layer of supply-chain complexity that requires Kemet to carry inventory to meet demands for both DRC-conflict-free parts and DRC-free parts.
"We're looking at how to best manage the situation. There are certainly tactical issues we need to resolve moving forward to implement this," said Persico.
- Jennifer Baljko