Neon (Ne) gas, an essential buffer gas used in excimer lasers for lithography, is in short supply due to turmoil in Ukraine, where most of the world's production in Ne gas, a byproduct of steel manufacturing, is located. The situation may give China an entry into becoming a significant supplier of Ne gas, a process that could take years.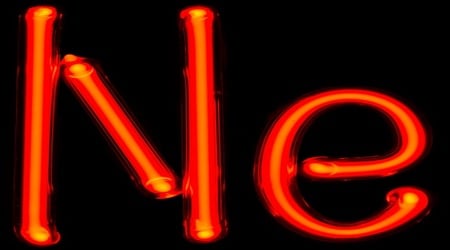 Credit image: PslawinskiThe price of Ne gas has skyrocketed in 2014, from roughly $1,000 for a 6,000-liter bottle of the gas, to approximately $6,000 for the same quantity now, according to one report.
The combat in eastern Ukraine dates back to the spring of last year and has resulted in nearly 8,000 deaths, the United Nations estimates. A new cease-fire took hold on September 1 and has generally been observed in the troubled region.
"Most of the manufacturing and purification [of Ne gas] takes place in Ukraine," says Len Jelinek, senior director, semiconductor manufacturing, for IHS Technology. "With the ongoing conflict with Russia, there are potentials for significant shortages."
He adds, "I have heard that the Chinese (there is a surprise) are aggressively getting involved in manufacturing [Ne gas]. However, they may not be players until 2018 or even later."
Lita Shon-Roy, president and chief executive officer of Techcet, a market research and consulting firm focused on materials for high-tech manufacturing, says, "The Ukrainians are saying they will increase capacity over the next 12 months." She adds, "Will they do that? It all depends."
Shon-Roy observes, "China's market share [in Ne gas] has increased. They have been taking share from Ukraine, Russia."
The issue in China is its current lack of production capacity for high-grade purification of Ne gas, according to the Techcet CEO. "Purification facilities are few and far between" in China, she says.
Prices for Ne gas have leaped up to 10 times in the past year, she estimates.
With the increased production coming on line in the years ahead, will pricing return to more rational levels? "I give it a 50/50 chance of happening,"

Lita Shon-Royshe says. "It depends on the political situation."
Linx Consulting (LC) estimates that semiconductor-related lithography accounts for about 70% of worldwide Ne demand.
"The rare gas market has been very volatile over the last decade or so. It costs millions of dollars to add rare gas capability to a large oxygen plant, which is best done during initial construction. The market for rare gases has become unpredictable over time due to poorly understood demand cycles. Today's problem with Ne shortage was born three or four years ago, when bulk Ne was much less expensive and reinvestment economics made capacity addition hard to justify," the electronic materials consulting firm reports.
LC estimates the electronic specialty and bulk gas market was worth $4.1 billion in 2014, about 17% higher than other estimates of $3.5 billion for last year.
Also rising in awareness over semiconductor materials are the conflict-minerals reporting requirements set out by the federal Dodd-Frank Wall Street Reform and Consumer Protection Act of 2010.
Intel and Microsoft have been among the corporate leaders in identifying and eliminating potential sources of minerals that are mined to finance the armed militias operating in the Democratic Republic of the Congo and other African countries. Tulane University conducted a study on conflict-minerals compliance and ranked the companies it examined.
Intel wrote in its fiscal 2014 10-K annual report, "We are an industry leader in our efforts to build ethical sourcing of minerals for our products, including 'conflict minerals' from the Democratic Republic of the Congo (DRC) and adjoining countries. In 2013, we accomplished our goal to manufacture microprocessors that are DRC conflict-free for tantalum, tin, tungsten and gold. We continue our work to establish DRC conflict-free supply chains for our company and our industry, and have set a new goal that all products currently on our roadmap for 2016 and beyond will be DRC conflict-free for these four minerals."
The Dodd-Frank Act's reporting requirements on conflict minerals have been challenged in the federal appeals courts, which have twice ruled that companies do not have to post disclosures about their compliance or lack of compliance with conflict-minerals reporting on their websites. However, public companies must still disclose to the Securities and Exchange Commission about their compliance status.
SEMI (formerly known as Semiconductor Equipment and Materials International) is holding its annual Strategic Materials Conference on September 22 and 23, 2015, at the Computer History Museum in Mountain View, California. The theme of this year's conference is "Materials for a Smart and Interconnected World."
Gary Patton, chief technology officer and head of Worldwide Research and Development for GlobalFoundries, will give the SMC's opening keynote on Tuesday, September 22. Followed by by Mark Thirsk, managing partner of LC, who will speak on "Material Transformation: Market Structure, Technology, and Opportunities in 2015."
At the end of Tuesday morning, a panel session featuring executives from the Consumer Electronics Association, Susquehanna International Group, SEMI and Techcet will take place and the afternoon will feature panel speakers from Freescale Semiconductor, Imprint Energy, Sensoplex, Honeywell and SunEdison Semiconductor.
The morning of Wednesday, September 23, will be devoted to a panel session with presenters from Lam Research, Intel, EMD Performance Materials and Inpria. The day's second panel session will hear from representatives of Intel, Environmental and Occupational Risk Management and SEMI, speaking on sustainable manufacturing.
The first afternoon panel session is devoted to advanced interconnect technologies, drawing speakers from imec, Applied Materials and Micron Technology. The conference wraps up with "A View from the Fabs," an executive panel session, featuring executives of Texas Instruments, ON Semiconductor and GlobalFoundries.
IHS Chemical is among the dozens of companies participating in the Strategic Materials Conference.
Ne gas, minerals, and the industry workhorse—silicon —are among the critical materials vital to semiconductor industry operations. The industry has had to deal with shortages in helium and rare earths in recent years, issues that were at least temporarily resolved. Ne gas looks to be an issue with no short-term solution.
To contact the author of this article, email engineering360editors@ihs.com