Renewable power sources are riding some very strong tailwinds that will likely continue to spur on future growth. In general, customer demand is robust across many business sectors as well as globally.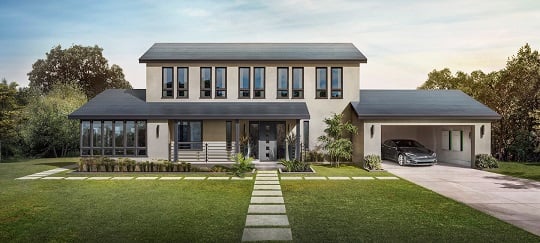 Tesla's solar shingles install on the roof but are less obtrusive than traditional panels. Source: TeslaAdvanced Energy Perspectives reported that the global energy market surpassed $1.4 trillion in 2016, a 7 percent increase since 2015 and robust 24 percent growth since 2011. A recent Deloitte report also noted that declining prices, decarbonization, digitalization and the drive to boost durability are harbingers for continued strong growth. Here are three solar technologies to keep an eye out for next year.
Solar windows are windows that also produce solar electricity. Quantum dots float within the windows and absorb non-visible light, for example, ultraviolet. The quantum dots release that light near the window frame, and a solar panel built into the side of the window takes it and converts it into electricity. Today, only a very few manufacturers actually sell solar windows, but that number is growing as other products are under development.
Critics note that while the idea is attractive, right now, solar windows are hampered by low efficiency and high cost. Therefore, the technology in its current state is best suited for commercial buildings, because they require a large number of panels to produce any useful amount of electricity.
Solar shingles offer the durable functionality of roof shingles, and are less expensive as well as more attractive than traditional solar panels. Some are flexible and adhere to surfaces with an adhesive, providing easy installation.The goal is to entice customers put off by the traditional look of solar panels, which can detract from the home's aesthetics. For example, Tesla's solar roofing product integrates its Powerwall battery with the shingle, and energy collected during the day is stored and made available any time. The glass solar tiles are so durable they are warrantied for the lifetime of the house.
Solar panels have been around for decades, but installation can be tricky, expensive and profits in the industry are slim. According to the National Renewable Energy Laboratory, slightly more than 10 percent of a residential solar power solution comes from installation. Manufacturers are looking at all-in-one solar panels with inverters already attached to further reduce costs as they require less time to install. Once installed on the rooftop, the installer pulls the microinverter into its elevated installed position, which creates a 15 mm air gap to ensure sufficient air flow and cooling. The product simplifies logistics, as installers no longer need to stock, transport, carry and install separate microinverters onto the roof, which significantly cuts down installation time.