Solar energy has become one of the cleanest and most abundant alternative energy options available, and can be used to generate electricity for lighting, heating homes and water, as well as commercial uses.
It is becoming so popular that it was even predicted that the global solar photovoltaic (PV) demand would increase 25% over this year.
Aside from large-scale solar energy, there are also plenty of ways to power your everyday devices by harnessing the sun's energy, and makers and hobbyists have been taking advantage of what the sun has to offer for some time.
Mechanical engineer Harry Armstrong is one of them. He manipulated the power of the sun to create a solar electric-powered, self-tracking, oven capable of cooking like an ordinary oven.
He had spotted a solar oven on the Internet and immediately saw room for improvement.
"I have this character trait (or flaw) that looks at something like a solar oven on the web and I say to myself 'that's nice, but I can make a better one than that'," says Armstrong in an interview.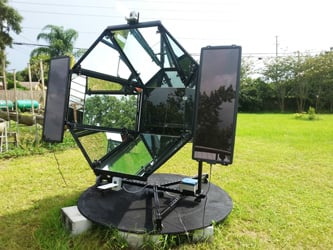 Armstrong's self-tracking solar-powered oven. Image Credit: Harry ArmstrongSo he began building a giant solar oven by looking for parts around his home, such as aluminum roof flashing.
He has made three versions of his solar oven. Version 1 was only capable of rotating on one axis, but managed to achieve high temperatures. Version 2 rotated on both axes, but the oven was too big, so it could not generate enough heat.
His first two versions did not include any self-tracking capabilities, therefore, in order to cook in the oven, someone needed to stay home and keep re-adjusting its position toward the sun every one to two hours.
In Version 3, Armstrong took his solar oven to an entirely new level by including some Arduino boards to give the oven its own solar-tracking system, which meant it could now follow the sun automatically, all day, without human intervention.
The Arduino boards monitor sensors detects when the oven is tilted toward the sun. For left-right movements, he used a windshield wiper motor from a car and for up-down positioning, he used a 12 VCD linear actuator.
"We can now put food in the oven and not worry about it until it is done," he adds.
Aside from its self-tracking capabilities, additional components used in the creation of the solar powered oven include:
Two large solar panels that charge the internal battery
A cooking chamber door
Manual override switches
Relays
Motors
Charge controller that takes the electricity from the solar panels and decides how much goes to the battery
Digital battery voltage display
Two voltage regulators that slow the motors down from 12V to 6V
Although his solar oven is now complete, Armstrong is not nearly done with using the sun to power all kinds of things—including his home.
"The ultimate goal of my tracking system was to use it on solar electric PV panels. I currently have 13 PV panels on my roof, but panels on a two-axis tracking system will generate 38% more electricity than the ones on my roof. I have purchased an additional 27 PV panels, which will be on three, nine-panel tracking arrays in my back yard. I should have all three of them operating in the next four months," he adds about his next solar endeavors.
He also uses his previously developed solar projects to heat his home's water and provide heat on the few colder days in Florida where it is necessary.
His four thermal solar panels supply most of his home's hot-water needs (for two adults and two teenage daughters). The panels heat 145 gallons of water bringing temperatures up to 190° F (88° C) on a typical summer day.
Armstrong will be attending the Orlando Maker Faire later this month where he will showcase his solar oven. When he is finished there, he intends on using it like any other oven—to cook meals at home—since there is not much to do with it.
"The thing is quite large and heavy, so it is not easy to take places," he says.
There are plenty of simple DIY projects available on the Internet for first-timers such as solar phone chargers and charging stations. Additionally, there are also more challenging solar power conversions available such as the solar-powered lawn mower.