In response to the growing need for more security in smart cameras, smart home vendor SimShine has launched what it claims is a hack-proof, artificial intelligence (AI) powered security camera called the SimCam 1S.
Debuting at CES 2020, the 1S security camera uses AI to help protect user privacy. The camera processes video locally on the device with bank-level AES-128/256 encryption and live streams through a secured P2P connection. It features object tracking and 360° tracking, free rolling local storage in an inside SD card and two-way audio to hear and speak with family and friends with noise and echo suppression. Additionally, with a companion app, it can stream live video on Alexa Echo Show, Google Nest Hub and third party apps like Synology and Ispy.
While other cameras process, store and transmit video through the cloud, making the video streams susceptible to hacking, SimCam uses AI, edge computing and bank-level encryption on-device to make the product virtually hack-proof, Zhang said. Videos are stored and processed locally on the device and only homeowners can access the camera through the companion app where live videos can be streamed to a phone through a secured peer-to-peer network. The account information such as passwords are also stored locally and encrypted with bank-level AES-256 encryption.
"We saw that existing security cameras were far from secure, and recent stories in the press about hacked cameras just prove our point," Aaron Zhang, CEO of SimShine told Electronics360. "We designed the SimCam and SimCam 1S to give consumers the peace of mind that their cameras wouldn't be hacked, along with state-of-the-art security features."
There have several recent instances in the past few years where hackers have used smart home devices to conduct larger attacks on corporations as well as hack into personal cameras to spy on homeowners and even children. This has led to many smart homeowners worrying not just about who is viewing their cameras but also who might use their devices for more nefarious reasons. These incidents have left many homeowners losing trust with security cameras or smart home manufacturers when it comes to providing tools that are aimed at preventing crime.
With internet of things (IoT) devices only set to grow in number in the next five years, the need for security in cameras and other devices is going to be a significant issue that needs to be addressed by smart home manufacturers.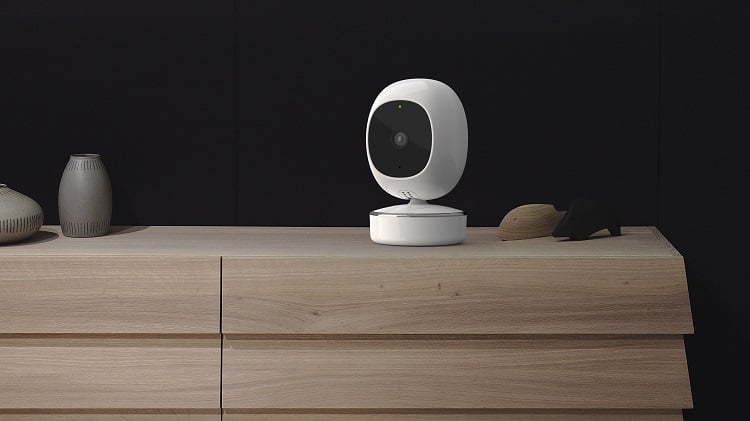 The camera also features object and 360° tracking and can be used with voice assistants. Source: SimShine
"People will continue to buy security cameras, but they can't have peace of mind if they are worried about video from their baby-cam being leaked onto the Internet," Zhang said. "If security camera manufacturers are to restore the trust of the general public, they'll need to take steps to provide greater security features baked right into their cameras."