The last leg of the Olympic torch relay in Daejeon has been completed in preparation for the PyeongChang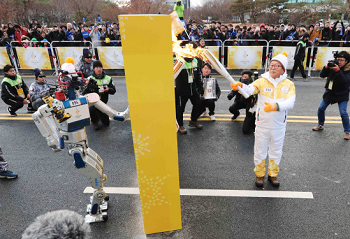 Hubo drills through a wall to deliver the torch to the next relay runner. Source: KAISTWinter Olympics 2018 in South Korea. Hubo, a humanoid robot engineered at the South Korea Advanced Institute of Science and Technology (KAIST), performed its task as a torch relay runner.
Hubo arrived at the KAIST campus, the site of its creation, along with University of California-Los Angeles professor Dr. Dennis Hong in an autonomous vehicle. After Hubo received the flame from Dr. Hong, the robot drilled through a wall to hand it over to the next relay runner — its inventor, KAIST Professor Jun Ho Oh.
The torch was then taken up by someone controlling and riding FX-2, another robot developed by Professor Oh for the event. FX-2 took a few steps to complete the relay, after which the torch traveled on to Boryeong, Chungcheongnam-do.