A team of researchers from the Korea Advanced Institute of Science and Technology (KAIST) has developed a drone to assist firefighters met with the challenge of diminishing fires in tall skyscrapers.
The unmanned aerial vehicle, named Fireproof Aerial RObot System (FAROS) can detect fires in skyscrapers, search inside of the building, and then transfer data in real time from the fire scene to the ground station.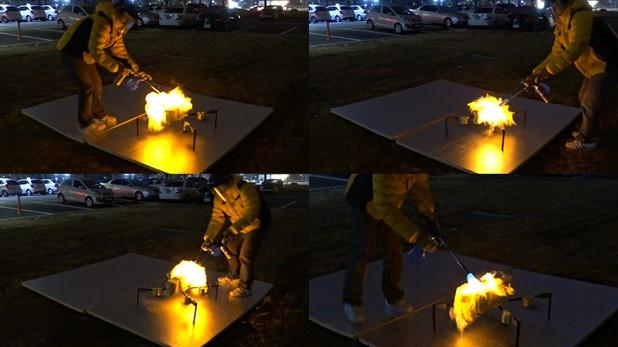 The FAROS can endure the heat of over 1,000° Celsius from butane gas and ethanol aerosol flames for over one minute. (Source: KAIST)The researchers built upon a previously developed robot system called Climbing Aerial RObot System (CAROS) and equipped FAROS will wall-climbing capabilities as well.
The FAROS relies on a quadrotor system to shift from flight mode into crawling mode, and vice versa, in order to navigate narrow spaces filled with debris and rubble inside of a blazing building.
The drone "estimates" its position by utilizing a 2D laser scanner, an altimeter, and an Inertia Measurement Unit sensor to navigate autonomously and employs its thermal-imaging camera to recognize objects or people inside a building.
FAROS can even detect the fire-ignition point by employing image-processing technology.
The drone is covered with aramid fibers to protect its electric and mechanical components from the direct effects of the flame and keep it safe from the flames. Its aramid fiber skin also has a buffer of air underneath it, as well as a thermoelectric cooling system to help maintain the air layer within a specific temperature range.
The team tested out its drone in a smoky indoor environment, which proved that the drone could endure the heat of over 1,000° Celsius from butane gas and ethanol aerosol flames for over one minute.
"As cities become more crowded with skyscrapers and super structures, fire incidents in these high-rise buildings are life-threatening massive disasters. The FAROS can be aptly deployed to the disaster site at an early stage of such incidents to minimize the damage and maximize the safety and efficiency of rescue mission," says Professor Hyun Myung of the KAIST Civil and Environmental Engineering Department.
The research team has recently begun enhancing its fireproof design, tweaking the external sensors, laser scanner, and thermal-imaging camera since those components will most likely be more exposed to fire than other inside sensors and electronics and therefore need to be able to withstand the conditions.