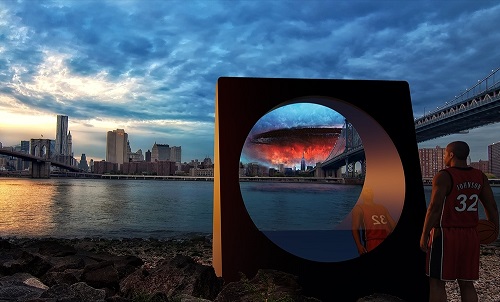 Realfiction will show off its DeepFrame display that presents photorealistic images and videos through a glass window in 4K resolution without special eyewear. Source: Realfiction
Realfiction will introduce what it claims to be the world's largest mixed-reality display at CES 2018 taking place in Las Vegas from January 9-12.
The DeepFrame display blends physical reality and digital holograms without the use of any special eyewear while displaying in 4K resolution. Realfiction says the display allows for a group of people to share the same mixed reality experience at the same time for settings and vistas in everyday life. DeepFrame was named a CES 2018 Innovation Awards Honoree.
Realfiction says the display took two years to develop and they picked a curved 4K organic light emitting diode (OLED) screen to project an ultra-high resolution image, video or animation that is enlarged on a transparent, custom-made, glass optic. Currently, DeepFrame is being offered as a 64-inch display but the company plans to offer other sizes in the future.
"By removing the need for glasses, we've evolved mixed-reality from a traditionally accessorized and isolated experience into something that can be spontaneous and social," says Clas Dyrholm, Realfiction co-founder and CEO.
Realfiction says it could see DeepFrame being applied to a range of industries such as retail, education and entertainment.