The holidays are right around the corner, so there's no time like the present to find the perfect gift for your family, particularly when they are members of a smart household.
Or maybe you just need a little pick-me-up. Nothing wrong with that. In fact, one of these gadgets might actually make it easier to get all that shopping ahead of you done.
Either way, you'll find the following latest and greatest technology products are perfect for anyone's connected home.
Philips Hue Smart Lights
You've gone out for a bit of evening shopping, and realize you didn't put the timer on for the lights. It's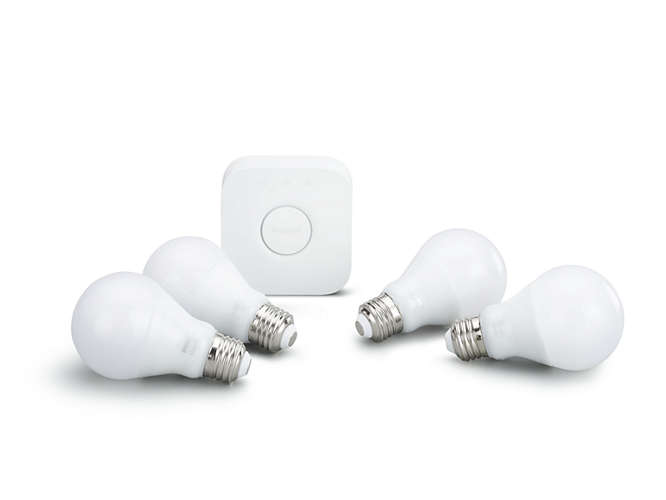 dangerous -- and a bit spooky -- to come home to a dark house. With the Philips Hue iOS and Android apps you can control your smart lights remotely from wherever you are. You can also automate scheduling to turn the lights on or off, making it like you're home when you're actually out looking for/fighting over that perfect gift.

Ring Spotlight Cam Solar

You're home now and busy wrapping presents, baking cookies or watching/snoozing in front of a holiday movie. There's a noise at the front door but you really don't have the motivation to see what's up. The Ring Spotlight Cam is accessible from your phone so you can see exactly what's happening live. The Cam is solar powered and needs only a few hours of sunlight daily to keep it charged. It comes with a rechargeable battery pack also, so you can keep that off the things-to-worry-about list.
Google Home Mini
While prepping the stuffing for the crowd gathering later, you realize your grandmother's recipe is in the
metric system. While this appeals to your engineering sensibilities, you just don't know exactly what the conversion is in terms of chicken broth, etc. But Google's Home Mini does. The Mini connects to the suite of Google Home products and is a cost-effective alternative to other similar products available. It also has the Voice Match feature. That means when you say "Call Mom," it will call your mom, not your roomie's or your spouse's -- which is important because she wouldn't know Grandma's recipes the way your mom does.
August Smart Lock
At the office shindig, you can't remember if you left the key under the mat for the dog walker (home security isn't your core competency). With the August Smart Lock, you can program virtual guest keys and keep track of who comes and goes with a 24/7 activity log, right from your smartphone. It supports the three leading voice-assistants, Siri, Google Assistant and Amazon Alexa. The lock installs on the inside of a door using only a screwdriver. And don't worry about changing out your Frank Lloyd Wright-inspired door handle; keep it and use your traditional key any time you want.
PetNet SmartFeeder
You're a modern-day Bob Cratchit, burning the midnight oil when you'd rather be home with -- your dog. But
Fido can at least be well fed while you're slaving away. The SmartFeeder app lets you schedule when you want to feed your pet and helps you determine a healthy portion size. You'll get a text notification when dinner's served. It also connects with a Nest camera, so you can watch your best pal chow down. When you finally get home from the office, you can ask Alexa to provide another feeding through the SmartFeeder, so you aren't awakened in a few short hours for a snack.