Accenture is gearing up for a big presence in the quantum computing analytics market. The consultancy's venture capital arm, Accenture Ventures, has made a minority investment in 1QBit, a quantum computing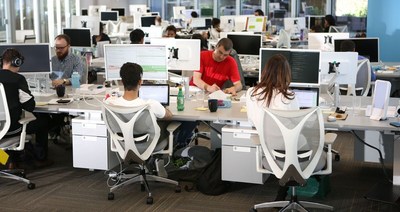 The 1QBit team at work (CNW Group/Accenture)firm based in Vancouver, British Columbia. Accenture is looking to expand its capabilities in quantum computing analytics as it prepares to enter a new era of business intelligence.
Financial terms of the deal were undisclosed.
The companies have formed an alliance under which Accenture will be 1QBit's preferred systems integrator. The consultancy will use the 1QBit platform for demonstration, training and the development and testing of Accenture tools and assets. Accenture hopes to develop a quantum-inspired analytics capability through the partnership, and scale pilot opportunities identified through Accenture Labs.
1QBit builds quantum and quantum-inspired software to help companies meet their most challenging computational challenges. The solutions use the power of quantum computing to solve business problems considerably faster than traditional computing. Accenture aims to gain first-mover advantage in the application of quantum computing.
1QBit's interdisciplinary team comprises mathematicians, physicists, chemists, software developers and quantum computing experts, who do everything from research to commercial application development.
A number of industries, including financial services, life sciences, and oil and gas, are interested in quantum software solutions.
This is not Accenture's first venture with 1QBit. Earlier in the year, they collaborated with Biogen to develop a quantum-enabled molecular-comparison application that could accelerate drug discovery for complex neurological conditions such as multiple sclerosis, Alzheimer's, Parkinson's and ALS (Lou Gehrig's disease). Accenture has also filed a number of related patent applications, including a multi-state quantum optimization engine that solves complex optimization problems by using nested calls to multiple quantum computing devices, and quantum computing methods to improve transportation systems, for example, to optimize the flight path of a drone system.