Quantum computers are amping up — and, in the not-too-distant future, they will revolutionize the way computing is done. Last week, IBM showed off the insides of its 50-qubit computer in an awesome display of beauty and technology at CES in Las Vegas.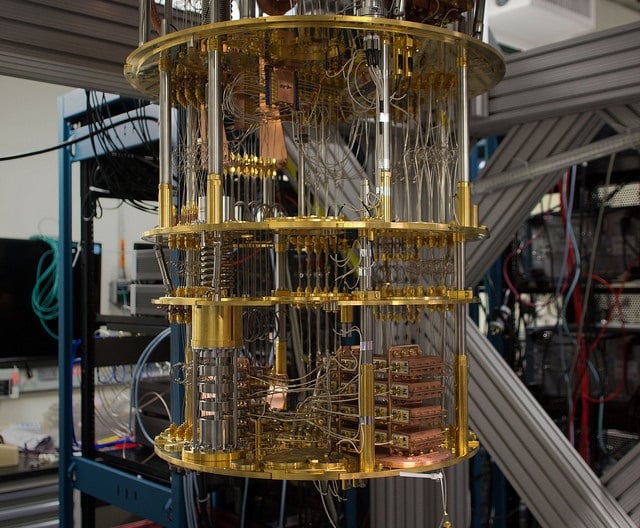 The inside of a 50-qubit computer. Source: IBM
Quantum computers are fundamentally different from existing computers. Today, information is created and stored as a series of ones and zeroes. Qubits can represent both values at the same time ("superposition"). As qubits are added, the computational power increases. It's a computer with superpowers.
What could those superpowers be harnessed to do for regular folks? Quite a bit. The processing power is exponentially faster. Here are just a few ways quantum computing is going to rock the world.
Drug development will be faster and more personalized. According to an Accenture report sponsored by Biogen, it takes pharmaceutical companies up to 10-plus years and often billions of dollars to discover a new drug and bring it to market. Therefore, improving the front end of the process with quantum computing can make dramatic improvements. According to the report, it can cut "costs and time to market, repurpose pre-approved drugs more easily for new applications, and empower computational chemists to make new discoveries faster that could lead to cures for a range of diseases." During drug development, chemists evaluate the interactions between molecules, proteins and chemicals to learn what combinations will cure certain conditions. An enormous amount of time and labor is required to analyze the huge number of possible combinations. Quantum computers can review multiple molecules, proteins and chemicals simultaneously, slicing the time needed to identify viable drug options. Furthermore, quantum computing permits a person's genes to be sequenced and analyzed more quickly than the methods currently used, paving the way for personalized drug development.
Improved weather forecasting. It's well-known that weather forecasting can be a bit of a guessing game. Weather fronts can change, seemingly in an instant — leaving travelers stranded because they didn't realize a blizzard was on the way or that a hurricane jogged slightly west and delayed air traffic up the Eastern Seaboard. Quantum computers are able to analyze all available weather data at once, so meteorologists will have a much better idea of when bad weather will strike. As a result, they'll provide accurate guidance and, ultimately, prevent inconvenience and save money as well as even lives. In addition, quantum computers will help create better climate models, thus providing more insight into how humans are influencing the climate.
Traffic will be routed to improve efficiency. Until Elon Musk's The Boring Co. can tunnel its way through California and points east, drivers are going to have to rely on apps such as Waze to get around traffic jams and to get real-time, crowdsourced information to plan their road trips. However, by employing quantum computing, the number of best route choices can be determined concurrently, reducing congestion on the highways. Air traffic control can likewise benefit from the technology: Airlines could schedule flights more efficiently and travel time would be reduced because the gates would be free of backlogs from takeoffs and landings. Fleet operations and supply chains could also use this information to streamline operations and enhance delivery times.