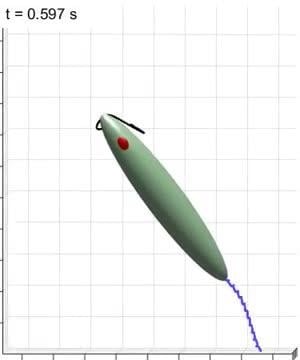 Source: International School for Advanced Studies. Source: SISSA
It's another one of those concepts that seems straight out of science fiction: robots capable of "swimming" in the human body for therapeutic means. But a new study on the motion of unicellular organisms from the International School for Advanced Studies (SISSA) in Trieste, Italy, illustrates knowledge that could be applied to exactly that purpose.
The study tracks the three-dimensional trajectories of Euglena gracilis, a unicellular organism commonly found in freshwater basins and ponds. E. gracilis is one species of euglenids, which move by means of lash-like appendages called flagella. The researchers, led by Prof. Antonio DeSimone, used a Kepler-inspired method to go beyond what is possible to observe with microscopes, which provide only a two-dimensional "slice" of the organism's movement. By combining high-resolution temporal footage with a mathematical model describing the relevant physics, the team reconstructed the organism's helical motion, along with the complex waveforms of its beating flagellum — in effect, its propulsion engine.
The same sort of approach was used by 17th-century scientists Isaac Newton and Johannes Kepler to reconstruct Tycho Brahe's observations on the orbits of planets in the solar system. "The moon and the planets in the sky, seen from the Earth, move along seemingly complicated and mysterious paths," explain the study's authors. "Once it is understood that these celestial bodies revolve around the Sun…we can combine this knowledge translated into precise formulas with the sinuous paths in the sky, and we can describe their real movement in great detail."
The methodology used suggests that all flagellated organisms move with helical trajectories when they beat their flagellum periodically in time: a universal law of motion based on flagellar propulsion. "For years, many laboratories in the world have been studying how to exploit the way biological organisms move and apply it to technology," notes DeSimone. "Small organisms such as euglenids are particularly interesting for medical applications, for example."
Under DeSimone's direction, mathematical models of biological movement designed for application into various fields have been created in the Sensing and Moving Bioinspired Artifacts (SAMBA) laboratory at SISSA. The lab also develops microrobot prototypes, sometimes inspired by euglenids, which may also be used as the basis for devices capable of moving inside the human body for therapeutic purposes.