Nobel laureate Eric Betzig, Ph.D., is borrowing the "guide star" adaptive optics technique, which gathers clear images of far space, to capture images at the cellular and sub-cellular levels. Betzig combined the technique with a lattice light-sheet, creating a new microscope to capture the cellular images and 3D videos. The creation of this new microscope was a collaboration between researchers from the Howard Hughes Medical Institute, Boston Children's Hospital and Harvard Medical School.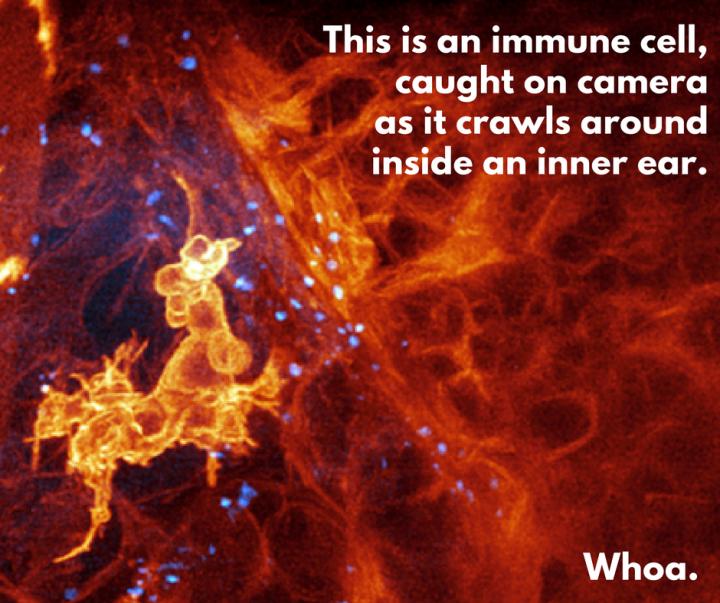 An immune cell crawls around the inner ear of a zebrafish. (Source: Boston Children's Hospital)
"For the first time, we are seeing life itself at all levels inside whole, living organisms," said Tom Kirchhausen, Ph.D., co-author on the new study, a senior investigator in the Program in Cellular and Molecular Medicine at Boston Children's Hospital and a professor of cell biology and pediatrics at Harvard Medical School.
"Every time we've done an experiment with this microscope, we've observed something novel -- and generated new ideas and hypotheses to test," Kirchhausen said. "It can be used to study almost any problem in a biological system or organism I can think of."
The focus of the microscope research so far was the zebrafish. This is because of the fish's skin is so translucent that it is easy to capture microscopic images of their organs and tissues in vivo. The zebrafish can also be genetically modified, allowing researchers to study human disease models. The team has watched metastatic human breast cancer cells move in the fish with the help of the microscope. Watching these cells gave the team a new look at how cancer spreads.
The researchers say that adaptive optics is an important area in microscopy research, and the lattice-light-sheet microscope is the perfect tool to help.
The paper on this research was published in Science.